home honig family theatre spot journal links
August, 2005
August 28, 2005
Birthday stuff and anniversary pictures
Kelly had a fun day for her birthday. She went to see Meg in a play in the Fringe Festival in lower Manhattan and then Kelly, Meg and Meg's sister, Lizzie, had some fun at a street fair where Kelly bought a little knitted Spider-Man finger puppet, after playing around with all the finger puppets. Kelly, Kim, Carl and I went to TGI Fridays for a quick dinner in the evening and Kelly ordered with the finger puppet. The waiter thought we were quite amusing. He even asked us to specifically request him as a waiter whenever we come into the restaurant. When Kim and Kelly ordered dessert, the waiter told Kelly that they'd really embarrass her since we had mentioned that it was her birthday. Kelly showed him the finger puppet and said, "Do I look like someone who's easily embarrassed?" So, the waitstaff sang....very loudly! It was so silly. We had a good time. The family dinner today was at Red Lobster. Yum.
Here are the pictures from the anniversary party. I just got the pictures back from the disposable cameras and I've added them. Lots of them!
Here are a couple of cute pictures from the Smithtown crew.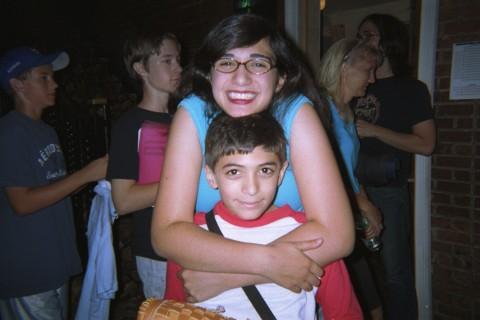 Gina and Gary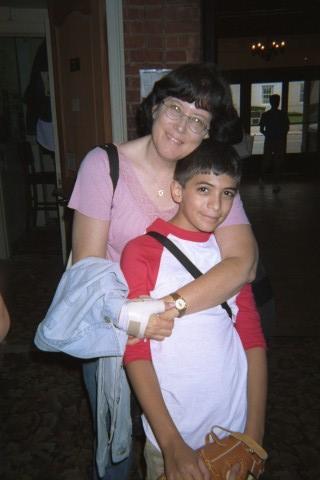 Me (and my hand splints!) and Gary. Aww!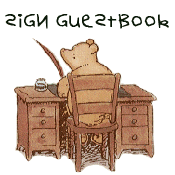 comments?

August 27, 2005
Happy Birthday Kelly!
Kelly celebrates her 28th today. Her gift? Golf clubs. Hmm, guess who thought of that one? This is the last of our August celebrations. Dinner out with her tomorrow since Billy's attending a christening today.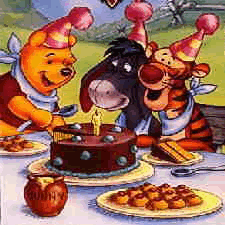 ta-ta!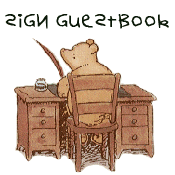 comments?

August 26, 2005
Hershey nature hike, Producers and Marc party pics
Greetings! Bill and I took a brief, end-of-summer trip to Hershey, Pennsylvania Wednesday and Thursday of this week. He had always wanted to see the zoo (ZooAmerica) and Kim had recommended Hershey Gardens so this was a flora and fauna nature trip. It gave us an opportunity to walk in the sunshine and enjoy the beautiful weather. We also visited Chocolate World and took the factory tour ride. That's so much fun. We had lunch at Chocolate World between the zoo and gardens. I also enjoyed the opportunity to take some pictures. A photo gallery is here.
Here are a few pictures from Marc's party courtesy of Diane Perri by way of Susan White. I don't have my pictures back yet from that day.
The group attending...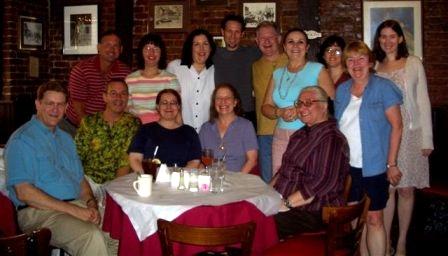 Harvey and Steven...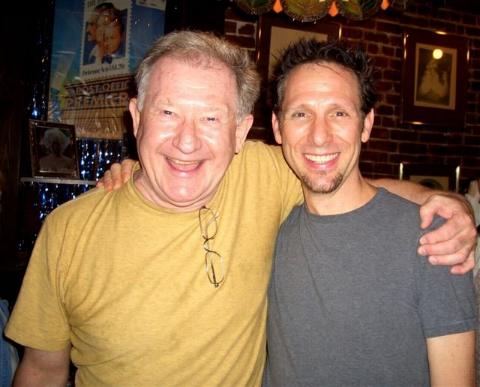 and Marc, me and Kelly...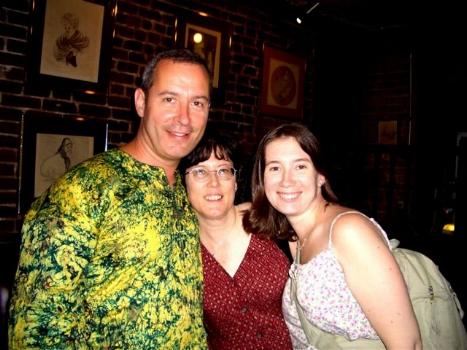 I love Marc's African attire. It looks so comfortable!
On our anniversary trip into the city, Bill and I saw The Producers. We got the tickets from TKTS, although they weren't half-off. They were 35% off. I never see the big ticket shows when they're still big ticket shows. I can't be bothered. I guess if I was really intent on seeing the original cast, I'd worry about it but I'm not usually that worried about that. Brad Oscar and Hunter Foster were in the lead roles and they were great. It's a very funny show. The actress playing Ulla (Angie Schworer) was so funny! I think the only one from the original cast that I wish I'd seen is Roger Bart. Seeing the character, I'm sure he was quite amazing. We had a good time and enjoyed the show. The big ticket show now is Spamalot. Since I'm not much of a Monty Python fan, I'm not in a rush. I'm sure I'd enjoy it but I think I've only seen the movie once and probably wouldn't understand a lot of the references.
That's it so ta-ta for now!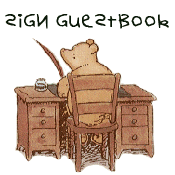 comments?

August 23, 2005
Happy Anniversary
Well, despite the fact that we've already celebrated, today is actually our 30th wedding anniversary. We plan an evening in the city, dinner and a show. Don't know which show yet. We'll just check out the TKTS line and see what's available. I like spur of the moment theatre-going.
30 years ago...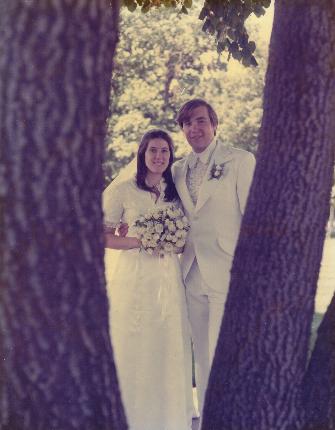 and earlier this month...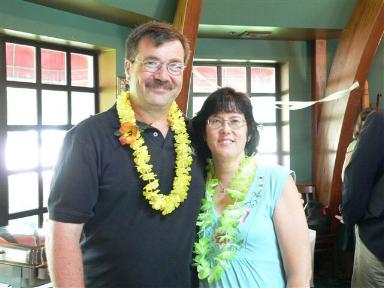 ta-ta for now!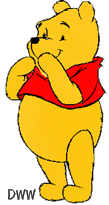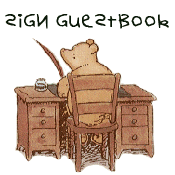 comments?

August 22, 2005
Party Time at Barrymore's
Kelly and I attended the yearly get-together for Marc Roselli at Barrymore's restaurant in NYC yesterday afternoon. Marc is a priest and has been working as a principal at a school in Nigeria for several years. He is able to visit NY once a year around this time and his good friend, Susan White, arranges a gathering at one of our favorite places so we can all say hello to Marc. This is the first time in a few years that Kelly has been able to be there. We all originally met Marc the same way we met many of our theatre friends, at the Scarlet Pimpernel stage door. He's a lovely guy and it's always good to see him again. It's also an opportunity to see Stephen Hope and Harvey Evans, both of whom performed in The Scarlet Pimpernel. Harvey has had a distinguished career in theatre and he's just the sweetest man. Stephen is a sweetheart and so often joins our gatherings. It was a fun afternoon. Unfortunately, I don't have pictures available right now. I brought the disposable cameras that were on the tables at our anniversary party to try and use up available pictures. They're about ready to send away so when I have the pictures back, I'll do some scanning and catch up on posting them. Also, once I have those pictures, I can set up a photo gallery of the anniversary party pictures.
Kelly will be the stage manager for the Long Island premiere of Urinetown when it opens at Smithtown Center for the Performing Arts in October. Kelly encouraged our friends yesterday to come to see it and I'm doing the same here. I know that many of the subscribers at Smithtown might be a little confused by the title but Urinetown is such a clever musical. I hope that people here on L.I. can get past the title and give it a chance. It's so funny and if you're a fan of musicals, you'll understand all the jokes and references. This is a musical that doesn't take itself seriously so if you're in the mood for something unusual, irreverent and wickedly funny, don't miss it. (tickets on sale at 631-724-3700.....public service announcement ended!)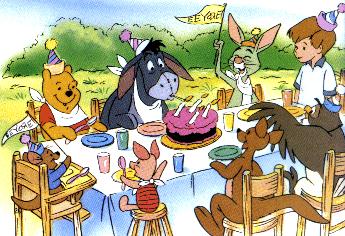 Yesterday's gathering was also a birthday party for Marc. His birthday is in April so he was surprised by the cake, which was excellent! Of course, he wasn't here in NY for his birthday so we had to celebrate now.
It's still so hot out. I hope the weather cools off for the school year. It will be miserable in an airless classroom in this heat. This is my last year at Copiague since my student will be graduating. I'm about ready to search for a different job so I have a little job security. That would be an interesting concept. I'm tired of looking for another job when students graduate or move on. Having my job dependent on one student is a little bizarre.
ttfn!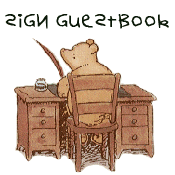 comments?

August 18, 2005
Happy Birthday Kim!
Kim is 26 today, the first of our August birthdays. It's such a beautiful day, 73 degrees right now. Such a relief after the heat we've had.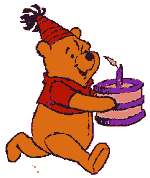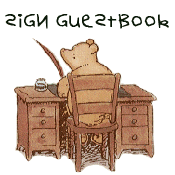 comments?

August 14, 2005
Anniversary celebration photo slideshow
Bill's friend and golfing buddy, Sid, made a wonderful slideshow of pictures from the party. Here's a link to the slideshow. Be patient. It will take a little while to load. It's almost five minutes long and it's just beautiful.
August 14, 2005
Anniversary Celebration
Kelly, Kim and Billy gave Bill and me the loveliest gift yesterday, a beautiful 30th anniversary celebration at the Black Forest Brew House restaurant. Friends and family joined us to party the afternoon away. I didn't take many pictures but others used my camera and I'm waiting for lots of pictures from the disposable cameras on the tables and those promised from guests. A sample of what I have now: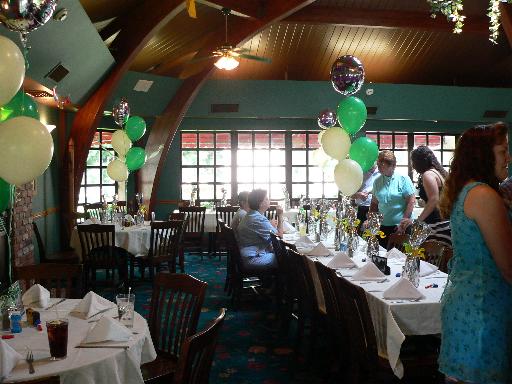 The girls did such a beautiful job of decorating the room with balloons, banners and fun things on the tables, like bubbles and favors (bottles of white wine).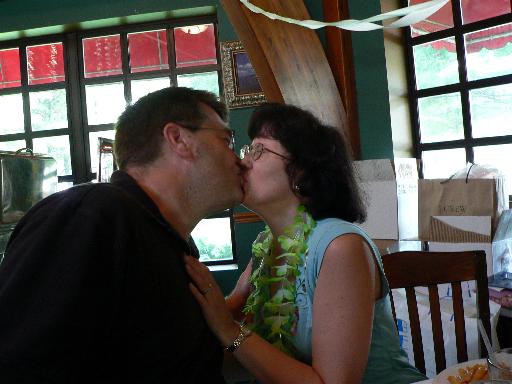 My friend, Sue's, husband, Arch, started the wedding tradition of tapping the glass for the kiss. Embarrassing! It was really funny. The girls had given us both flower leis to wear. I wore it longer than Bill did!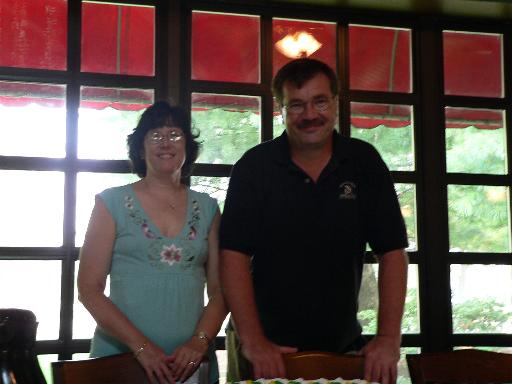 Ready to cut the cake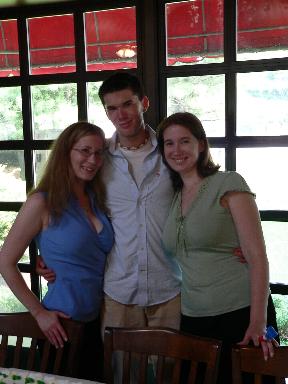 Kim, Billy and Kelly, looking festive.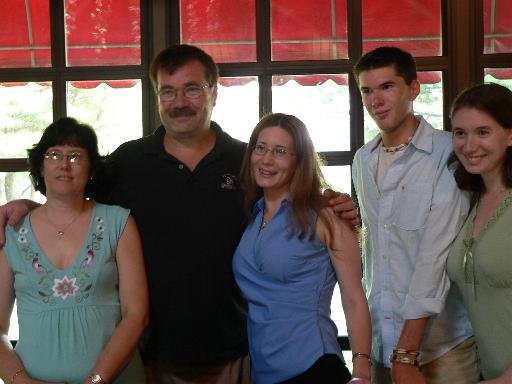 family portrait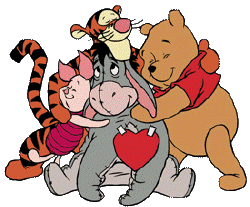 It was a lovely day with lots of good food and conversation. I'll put the other pictures, including pictures of tables of guests, on a separate page when I have time. Today, Kelly and I are going to see the kids show at Smithtown.
ttfn!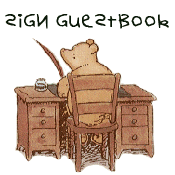 comments?

August 11, 2005
Another amusing site for you to peruse
Here's a good one, Gallery of the Absurd. I discovered this one through an article in today's Newsday (Newsday 8/11/05). This girl is an amazing artist and I appreciate her sense of humor.
Tonight's the last Beginning ASL class at BOCES. We're partying, bringing food and music to show off signing skills.
ta-ta!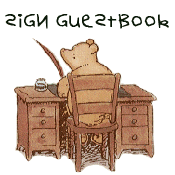 comments?

August 10, 2005
Ok, people, I'm either busy or bored...
I got a score of 107.5 on this quiz:
http://www.yetanotherdot.com/asp/80s.html
I knew the big 10-point question and got 20 points for being born before Slinky was invented, therefore, being a "Mom". Yeah, true, I'm bored.
Gotta make dinner. What's for dinner? I don't know yet, still thinking. Bored, bored, bored.
P.S. Check this out for a laugh: www.megwood.com.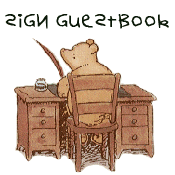 comments?

August 6, 2005
Your Birthdate: November 8
Born on the 8th day of the month, you have a special gift for business, as you can conceive and plan on a grand scale. You have good executive skills and you're a good judge of values. You should try to own your own business, because you have such a strong desire to be in control. You are generally reliable when it comes to handling money; you can be trusted in this regard. Idealistic by nature, you are never too busy to spend some time on worthwhile causes, especially if managerial support are needed. There is much potential for material success associated with this number.
Interesting, huh? Strange, but I've never thought of owning a business. Never seemed like I'd be right for that sort of thing. However, I read
Wil Wheaton's blog
every day and a recent entry recounted how he missed acting, despite the fact that he's written a couple of books. He went to sleep repeating to himself, "I am a working actor" and woke up the next morning to a slew of acting offers. Hmm, that really made me think. My student is graduating at the end of the upcoming school year, which means I'll be searching for a new job. If, towards the end of the school year, I go to sleep chanting, "I am a working interpreter", do you think someone will call and offer me a great job? One can only hope.
ttfn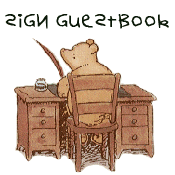 comments?

August 4, 2005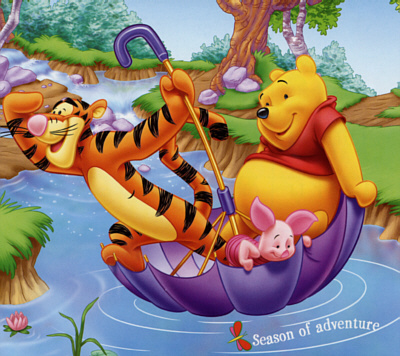 Greetings and salutations! August is here and that only means one thing. School starts in one month. This means different things to different people. To me, it means my vacation ends in one month. Ah, well. All good things come to an end. I don't just sit around all summer, though. I've been teaching a class, I taught at a theatre camp and I always have chores around the house I want to accomplish. This summer, though, like last summer, I've been trying to actually relax. I usually take on more than I can realistically finish during the summer vacation. We've had so many get-togethers and fun things to do this time around, which has been really nice.

This summer, I've been reading American Brutus : John Wilkes Booth and the Lincoln Conspiracies. I'm almost halfway through it. It's interesting but it's a heavy read for the summer. I probably should have saved it for when I'm back at work, reading at lunch. So, I borrowed a book from Kelly to break it up a little, The Five People You Meet in Heaven. She highly recommended it and so far, it's very good. Another thing that will make reading easier is that I just got new reading glasses yesterday. It's a little difficult reading for a long period of time with the bifocals.
It's been so hot and humid. The pool is looking beautiful, though, so that's good. One of my summer chores is to sand and stain the deck. It really needs it. It will be in the 90's today so this isn't the day! Next week, it looks like weather will be in the 80's. Better to wait until then.
I'm off. I'm having breakfast this morning with my former coworkers from BOCES. We try to get together once in the summer and once in the winter to catch up on things.
Ta-ta!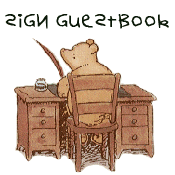 comments?