home honig family theatre spot journal links
Winter Break Vacation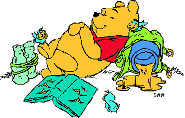 February, 2005
Walt Disney World, Orlando, Florida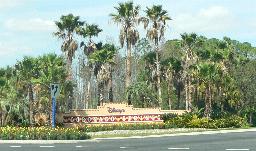 Sunday, February 20, 2005
Greetings, friends and family. Welcome to the winter/2005 edition of the Honig vacation. Bill, Kelly and I set out early Saturday, February 19, leaving 16 degree weather behind, destination Florida. We put over 800 miles and 14 hours behind us that day, arriving in the Savannah, Georgia area for the night. Trying to find a place to stay for the night was interesting. Everything seemed to be full. We kept thinking, what the heck is happening in Savannah, Georgia?! We finally found a room at a Scottish Inn (using my AARP discount for the very first time, I might add). I swear, if they'd told me it was $200 for the room, I probably would have said yes, we were so exhausted. We got on the road this morning and as we were going through Daytona on Route 4, discovered that the traffic in the other direction was horrendous. I've never seen that much traffic on a beautiful, sunny Sunday with no road work. We were getting a little concerned, wondering if everyone was fleeing Florida for some reason! Kelly figured it out. The Daytona 500 race was due to get underway. We're guessing that was also the reason for the full hotels in and around Savannah, an hour from Daytona. Ok, so that was settled. Kelly: Kelly's explanation for the Savannah overload: Either the annual clamshucking festival or the annual "Annoy Kelly Honig weekend".
We stopped in Orlando itself to go to Ron Jon's Surf Shop. No trip to the area is complete without a Ron Jon's trip.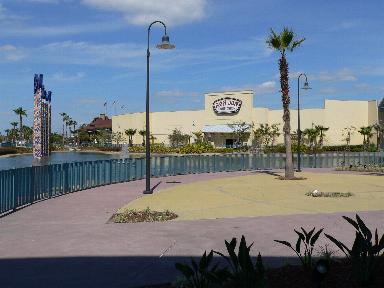 After that, we had lunch at the Murray Brothers' Caddy Shack. Bill and I ate at the restaurant in St. Augustine, at the World Golf Hall of Fame in August and we loved it. So we wanted to bring Kelly to this one in Orlando. Our waitress was from Brazil and is here working for two months, improving her English so she can go to school in this country. She was cute.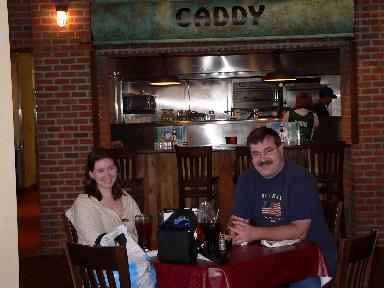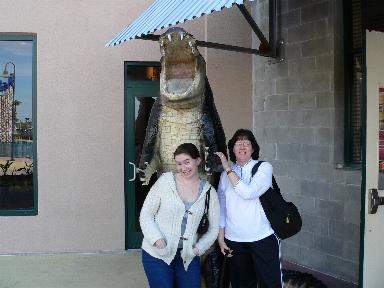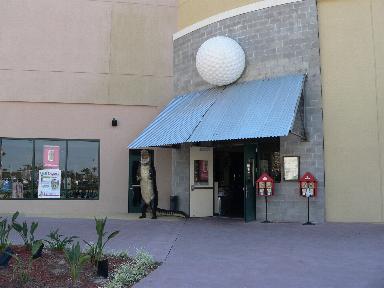 Our next stop was Walt Disney World. Bill and I stayed at this same resort, Coronado Springs, back in August but it's so much more pleasant when it's not 95 degrees. The weather here is absolutely beautiful. Tomorrow, the forecast is for 82 degrees and today, it was probably in the high 70's. In fact, when we were in, I think, Virginia, the temperature was 64 degrees, according to one of the signs. It was crazy, having driven a few hours and seeing such a difference in temperature.
We have a suite here so there's plenty of room for the three of us. The bedroom part,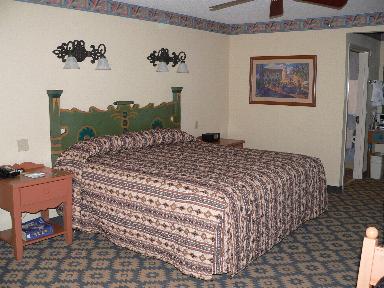 looks like the room we had in the summer but there's an attached room for Kelly with a murphy bed. Closed...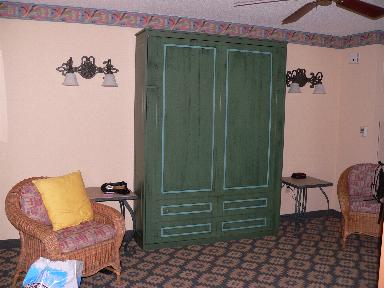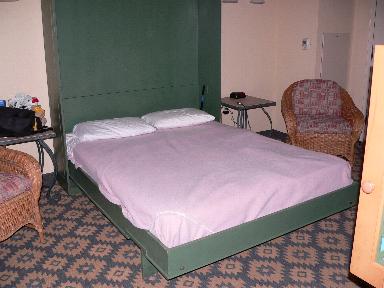 and open! Very cool. We wandered around for awhile while Bill went to make arrangements for a golf lesson. Then, we had dinner at the Maya Grill, the restaurant here in the resort. It was such a great dinner. Kelly and I took a walk to the dig site pool and took a dip in the hot tub before finding our way back here.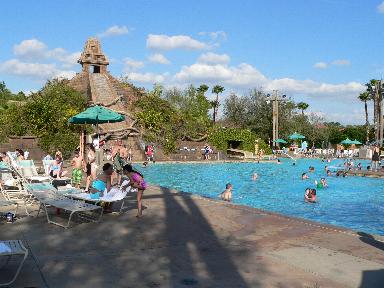 Agenda for the week? Two days in Disney parks, one day at Universal, Thursday night at Cirque de Soleil (Downtown Disney) and Tuesday evening at, no kidding, The Hoop De Doo Revue. We wanted to go to the Hawaiian luau but that was sold out. The girl at the desk in the hotel lobby assured us this is lots of fun. Hey, we'll give it a try.
More to come!
Sorry for the delay, folks. Here goes:
Monday, February 21, 2005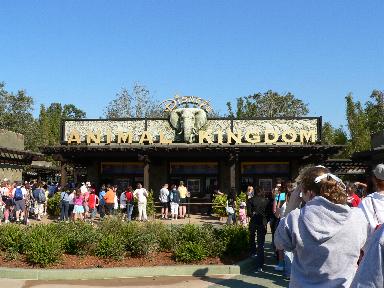 We started the day at Animal Kingdom. This is a really nice park. The best things to see here are the Kilimanjaro Safari ride and Dinosaur, which scared the daylights out of us! I took some great pictures here, especially on the safari.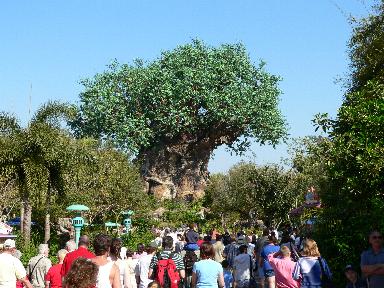 Here is the Tree of Life, the centerpiece (think Cinderella's Castle) of the Animal Kingdom park. No, although it looks like a real tree, it is not. In fact, the Bug's Life 3-D show is inside this structure. Kelly and I had to take Dad to see that as we'd seen it in California Adventure, Disneyland's new park in California. It's really cute.
We decided to go on the safari ride first. We waited about half an hour, which wasn't too bad. We decided to save the fast pass option for the Dinosaur ride. Incidentally, Dad never got the "fast pass" straight but after awhile, he was just making up stuff to make us laugh. "Fast track? Speed pass?" Whatever. It was funny.
Kelly found a really cute item as soon as we entered the park. Yeah, we were shopping already. It's a Pooh (naturally) with a little pack to carry things, kind of like a "fanny pack" with a stuffed Pooh. We each had to get one and Kelly needed a picture of herself and Pooh "on safari".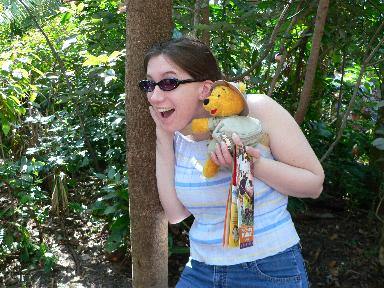 Here are some random animal pictures from the safari. When Bill, Billy and I visited Animal Kingdom in August, 2000, it was so incredibly hot, we didn't see many animals on the safari. This time, the lovely weather must have brought them all out in the open. We couldn't turn a corner without seeing something. It was so cool.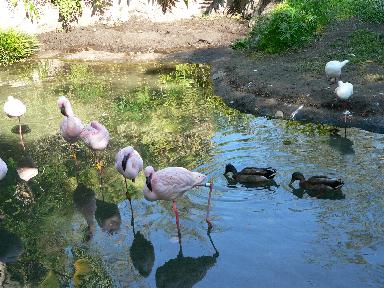 Flamingoes. It is Florida, you know.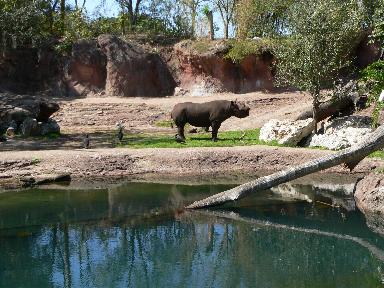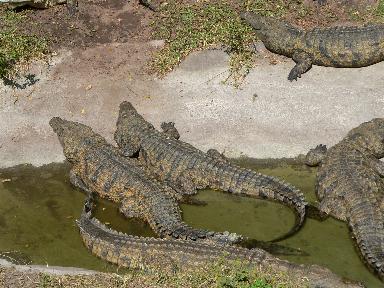 Alligators, as it IS Florida.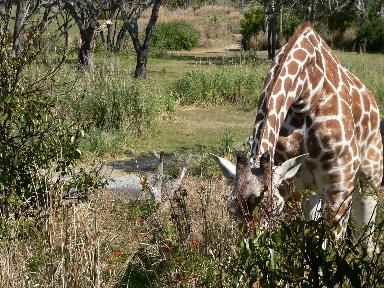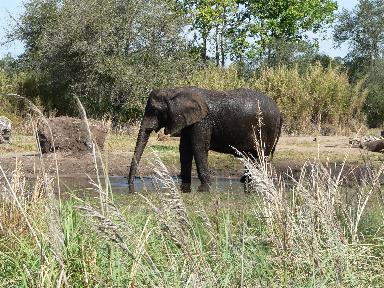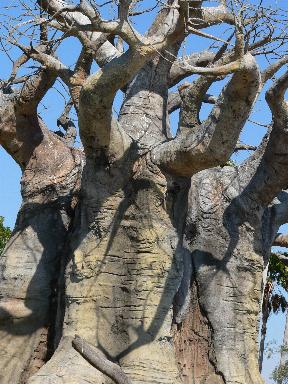 The driver on the ride said that this tree is 1,000 years old. I don't know if it was transplanted there but it seems unusual to see a tree that old in the middle of Florida. I'm fairly sure this one is a real tree and not a Disney creation!
We did the Dinosaur ride after this. It's really wild, lots of fun. We have the picture taken on the ride. I look shocked, Dad's laughing and you can barely see Kelly, who is hiding her head!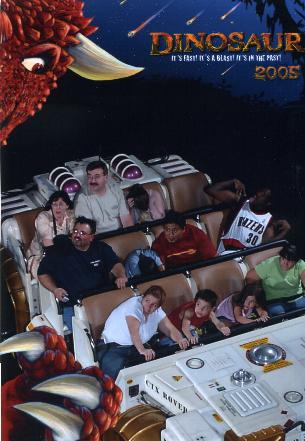 and the close-up...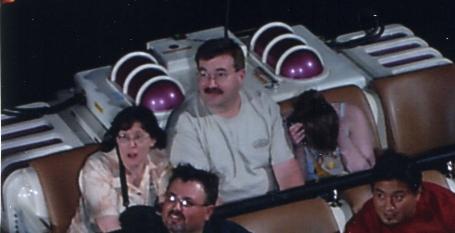 And, of course, the inevitable character pictures: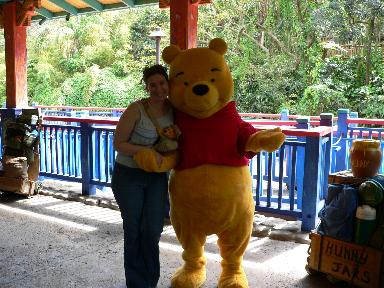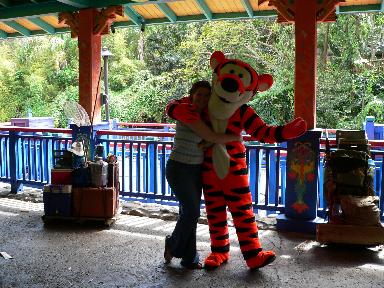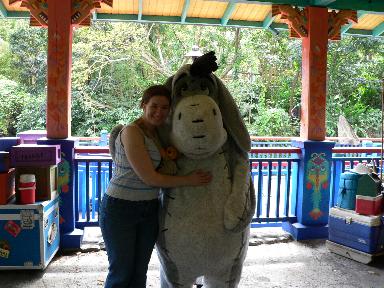 Isn't this a great picture? I really had to zoom in and I was so impressed with this one. The new camera is really amazing.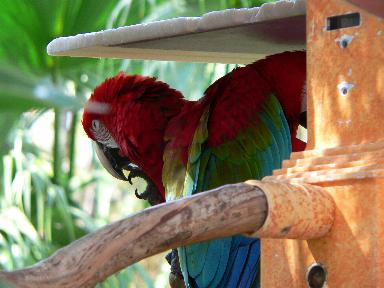 After Animal Kingdom, we went back to the resort and went swimming at the Dig Site pool. We had dinner at the Pepper Market, the food court at Coronado Springs,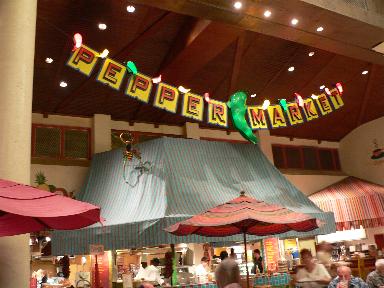 and went to Epcot for the evening.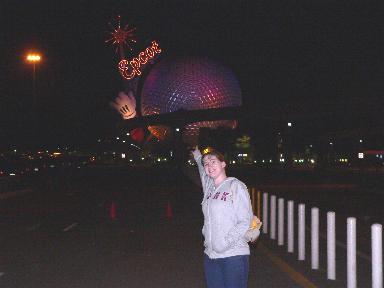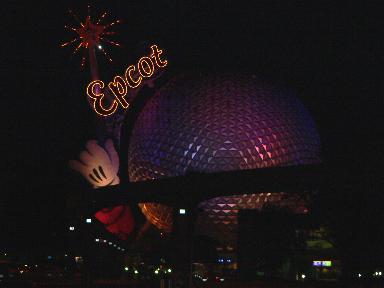 Kelly really wanted to try the ride Mission: Space. Bill and I were thinking we'd had enough wild rides for one day so Kelly went on that herself and we hung out, relaxed and waited for her. She loved the ride but I'll let her tell you about it. After that, we'd planned on waiting for the fireworks display there but the crowd was getting so close and we were so tired, having done so much the first day, we decided to call it a day and skip the fireworks.
Our next day was to be a bit more relaxing...