home honig family theatre spot journal links
Pooh's Page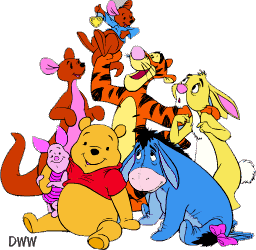 Now on video/DVD!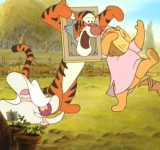 Pooh's Heffalump Movie -- The Official Movie Website
It has occurred to me that although the "theme" of my website is Winnie the Pooh (and friends) and I may use Pooh graphics to decorate my pages, I really didn't have much about Pooh on the site. So, since I've been checking out some Pooh sites, I thought the least I could do is list my favorite sites as a start and then see what else I can do on this page.
I guess a little background is in order as well. I'm not sure when I became the Pooh devotee I am now. I used to read the stories to my children when they were little. Billy really enjoyed the Peter Rabbit story but was disappointed that there were no sequels. He used to ask me what happened to Peter Rabbit after the story. So, he really enjoyed Pooh stories because there were more stories to read after the first one. I suppose that the Disney connection probably fed my obsession as I love Disney characters. Gradually, as Disney Store became a favorite place for me, I began collecting Pooh things, mostly clothing to start, moving onto other little doodads, mostly for the kitchen. My kitchen is Pooh heaven. I have everything you could possibly imagine...salt and pepper shakers, cookie jar, tea pot, spoon rest, hand soap dispenser, potholders, juice glasses etc.... I even have a Pooh and Tigger waffle maker. The best. Anything I couldn't find with Pooh, I made myself, such as a painted floor cloth in front of the sink and a painted napkin holder. I also have stuffed Poohs in the bedroom and even a little wind chime. I think all of my pajamas are Pooh jammies and my big warm winter robe is also a Pooh item. Pooh beanbag dolls even decorate my car and I recently got a Pooh floor mat for the front driver's side. It might have gotten a little out of hand but I guess it's part of my identity now. Kelly and I were the only two people in the movie theatre on a Thursday evening watching The Tigger Movie a few years ago. We had a great time!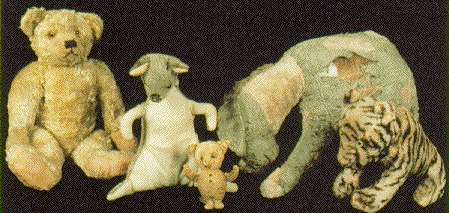 The original toys owned by Christopher Robin Milne (from left Pooh, Kanga, Piglet, Eeyore and Tigger). I believe Roo was lost or possibly destroyed by a family pet. I don't remember exactly what happened but Roo is not with the collection of toys, which is now on display at a branch of the New York Public Library in Manhattan.
Here's my kitchen floorcloth: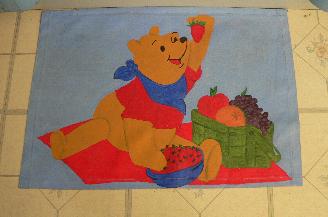 I found the drawing on the internet, drew it onto canvas and painted it. It's in front of my sink.
Also, a comment on the color combination here (and elsewhere on this site), purple is my favorite color. Just thought I should mention that!
So, here goes, my favorite Pooh sites:

Just Pooh.com This is a really cute site. I love the way the pages look like a book and the drawing on the front page. It has a great history section and I really enjoy the little animated pictures on the pages. The information about the real Hundred Acre Wood is really interesting as well. It's just a really nice, well put together site. Very informative for the Pooh fan.

The Page at Pooh Corner I spent a lot of time exploring this site. It caught my interest at first because it was put together by a young man named James Milne, although it does not appear that there is any relation. This is a really nice website with a great biographical section on Christopher Robin. Mr. Milne has done lots of research here and I enjoyed reading this information quite a bit. There's lots of information about the background of the stories, the toys themselves and the area where Christopher Robin grew up and where the stories took place.

Pooh the Bear - A site about Winnie the Pooh and friends and Judiths Winnie the Pooh page are both very cute, although the ads make the pages very busy. In fact, when I first clicked on Judith's page, the ad featured a huge cockroach, which might tend to frighten younger visitors to the webpage! Still, both sites are very extensive with lots of features including games, coloring pages, pictures and even recipes. Obviously, lots of work went into these pages.

Winnie the Pooh - The Official Website Yes, Pooh actually has his own official website at disney.go.com, the very extensive Disney website. It's very cute. You can click on each character to find different goodies, coloring pages, games and things. You can also buy videos through the site, since it is a Disney site.
August 16, 2011 - Here is a new resource, sent to me by a young lady named Samantha. Thank you for your help, Samantha! Red Envelope - Literary Gifts