home honig family theatre spot journal links
October, 2004 Archives
October 31, 2004
Happy Halloween!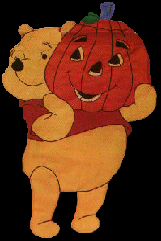 It's a really beautiful day, sunny and around 70 degrees. We've had a few trick-or-treaters so far but it's early. I still have to cut the jack-o-lanterns and do a little baking for a nice dessert after dinner.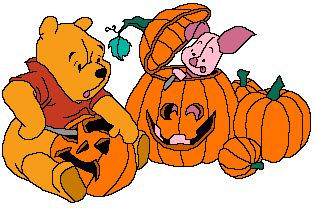 Here's Pooh doing a little pumpkin carving.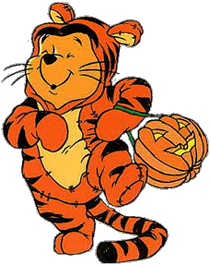 Have a happy, spoooky Halloween!
ttfn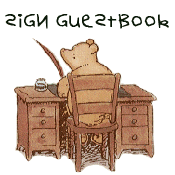 comments?

October 28, 2004
"Give us your poor, your tired, your huddled masses yearning to breathe free..."
The Statue of Liberty ("Liberty Enlightening the World") was dedicated on this day in 1886. The statue, by Frederic Auguste Bartholdi, was a gift to the United States from the people of France. It was brought to this country in pieces and erected on a base built here. I remember being taught that the base was paid for by schoolchildren who donated their pennies! The poem on the base (excerpt above) was written by Emma Lazarus.
"Not like the brazen giant of Greek fame, with conquering limbs astride from land to land; here at our sea-washed, sunset gates shall stand a mighty woman with a torch, whose flame is the imprisoned lightning, and her name Mother of Exiles. From her beacon-hand glows world-wide welcome; her mild eyes command the air-bridged harbor that twin cities frame.

'Keep ancient lands, your storied pomp!' cries she with silent lips. 'Give me your tired, your poor, your huddled masses yearning to breathe free, the wretched refuse of your teeming shore. Send these, the homeless, tempest-tost to me, I lift my lamp beside the golden door!'"
October 27, 2004
Dracula and The Wedding
Jan and I took in Dracula, The Musical last night. The reviews were not spectacular but I'm very forgiving when it comes to shows. I can always find something I like about almost everything I see. I didn't think Dracula was terrible. I did have the feeling that there's a bit too much crammed into it, if that makes sense. It seemed the scenes were shorter than they should be and I had trouble getting involved in the scenes because as soon as I was getting into it, scenery was changing and we were moving onto something else. Otherwise, the performances are strong and the flying and effects are very cool. I also really liked the costumes. We were sitting in the fourth row and I had a good look at them. I do enjoy that. So, I had a good time and that's all that counts.

I finished reading The Wedding by Nicholas Sparks this afternoon. Now, I must say that this isn't the kind of book I usually read. I read novels but tend to be interested in more involved storylines. I read The Notebook because I had seen the movie trailer and wanted to know what the story was about. It's a sweet story but less involved than books I usually read. I did enjoy it, though.
I was told by a coworker that I must read the sequel. This book caught my interest immediately. The main characters in the story are a married couple, the wife being the daughter of the couple in The Notebook. In the beginning of the story, it seems the husband has forgotten their anniversary. Here's the interesting part. Their anniversary is August 23 and it was their 29th anniversary. For those of you not playing the home game, our anniversary is August 23 and this past summer, we celebrated our 29th anniversary. Whoa. (P.S. My husband has NEVER forgotten our anniversary! Just for the record.) To continue, the couple has three children, two girls and a boy, and the oldest is a 27-year old girl. Ok, this was getting a little too weird for words.
I got so wrapped up in this story. I was reading it all the way into the city on the LIRR yesterday on my way to Dracula and was disappointed when we were nearing Penn Station because the story was really progressing at that point. I read it on the way home and finished it this afternoon at lunch. No, I'm not going to tell you how it ends! I really enjoyed it, though. I even got a little teary at the end.
My usual favorite authors? John Jakes (I love historical fiction) and Anne Rice (Kelly got me into the vampire chronicle books).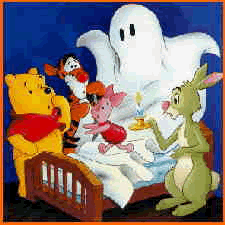 Halloween this weekend. I still need to get a pumpkin for a jack-o-lantern. When the kids were little, Halloween was almost as exciting as Christmas. It was one of our favorite holidays. I still love it.
ttfn, kiddies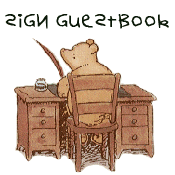 comments?

October 21, 2004
Twelve Angry Men
Kelly, Bill and I saw the new Roundabout production of Twelve Angry men at the American Airlines Theatre last night. We really enjoyed it. It's a great production, terrific performances. I found it interesting that I've seen the movie so many times, when the actors sat down in their seats, I knew who was playing which character by their placement around the table. I've always wanted to see this play so I was really pleased that Roundabout was doing it. Now I've seen The Crucible, The Elephant Man and Twelve Angry Men on Broadway. All I need now is A Few Good Men. I'd settle for a good off-Broadway or regional production. I'd love to see that play as the movie is a big favorite.
Here's the website with information about Twelve Angry Men.
Time to get ready for work...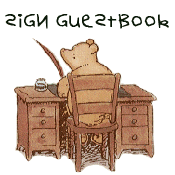 comments?

October 14, 2004
Counter goes over 1000!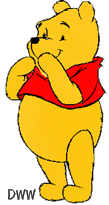 Pretty cool! Thanks to everyone who actually reads this stuff. It's hard to believe anyone's really interested but I do appreciate it when I see those numbers increase every day. It is fun.
Now for the little bit of history, this tidbit being quite near and dear to my heart. The book Winnie The Pooh debuted on this day in 1926. The stories, written by A. A. Milne, were written for Milne's son, Christopher Robin. The stories centered on Christopher Robin and his stuffed animals. Information found here and here.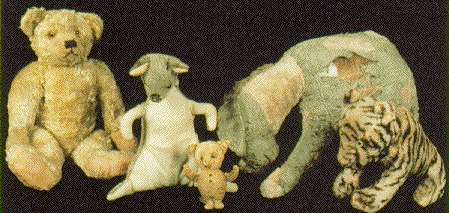 Here are the original Pooh bear, Kanga, Piglet, Eeyore and Tigger. They were given to the NY Public Library by Christopher Robin himself. If I remember the story correctly, Roo was lost or chewed by a pet dog and isn't in the library collection. I'd love to see them someday. I just never have gone down there. One day, I will.
We're having dinner at a friend's house tonight so I'm off. ta-ta for now!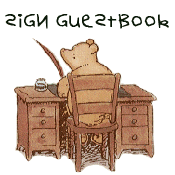 comments?

October 7, 2004
Mom's New Car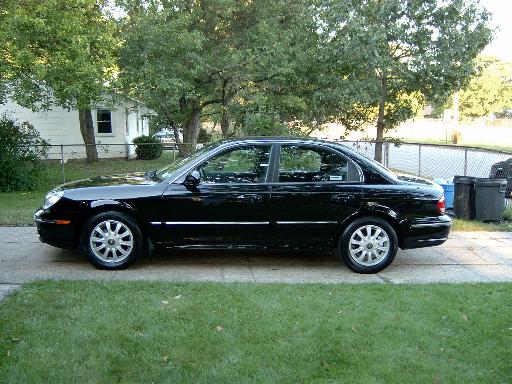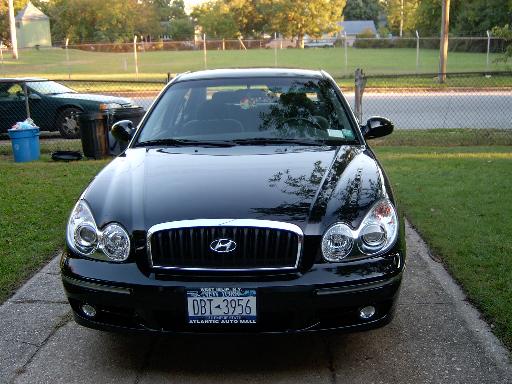 I just got a new car yesterday. It's a leftover 2004 Hyundai Sonata and we got a really great deal on it, including an exceptionally nice warranty. It's really beautiful.

Now that I'm back at work, I'm reading at lunch again. It's not much but it's at least one half hour of reading each day, which is nice, especially when I'm really busy. When we were in Gettysburg on vacation, I bought quite a few books, including one called The Robert E. Lee Family Cooking and Housekeeping Book by Anne Carter Zimmer, who is the granddaughter of Robert E. Lee. It's a fascinating book. Ms. Zimmer was given a notebook kept by Mary Lee (wife of R. E. Lee), called a housekeeping book. Included in the book were family recipes and other notes, such as lists of foods purchased and other lists. The recipes were all tested and are written as they appear in the notebook and then with the updated modern measurements. I'd love to try them but we just don't eat like that anymore, too much butter, cream, etc.
I just finished The Notebook by Nicholas Sparks. I'd like to see the movie and wanted to know what the story was about. It's a really sweet book, a quick read. I really enjoyed it.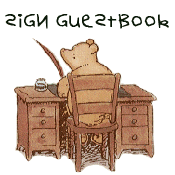 comments?

October 3, 2004
Tapestry Closes :-(
It was a very emotional closing show today at Smithtown when the cast of Tapestry said goodbye. There was also a bit of silliness, especially during the 60's medley at the end of the first act, but the predominant emotion was sadness to say goodbye. Chris Messina broke my heart.
Some cast party pictures: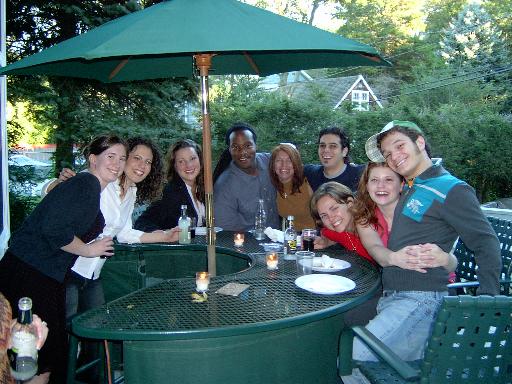 The cast with Kelly, Kristen and Chris' Mom between Tyson and Frank, who stayed at the Messina's every weekend so they wouldn't have to drive back to the city Saturday night and come back for a matinee Sunday.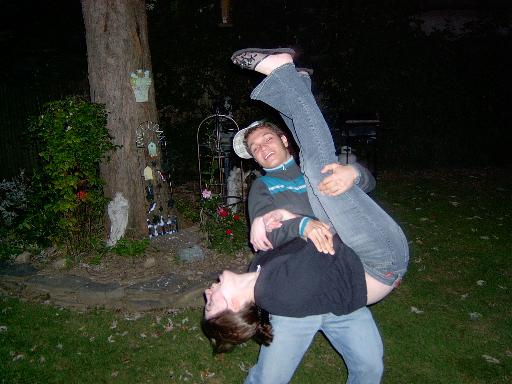 Chris flipping Kelly over. It didn't quite work this time.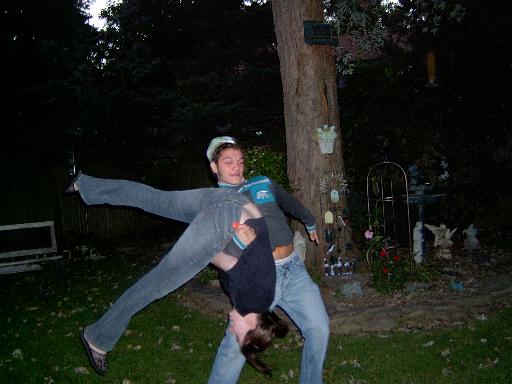 Success!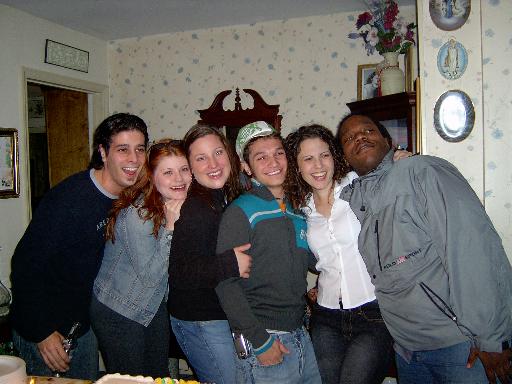 The cast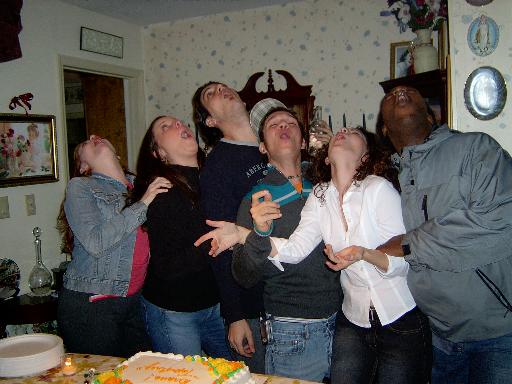 No, I have no idea. Howling at the moon?? Anyway, it's a great picture.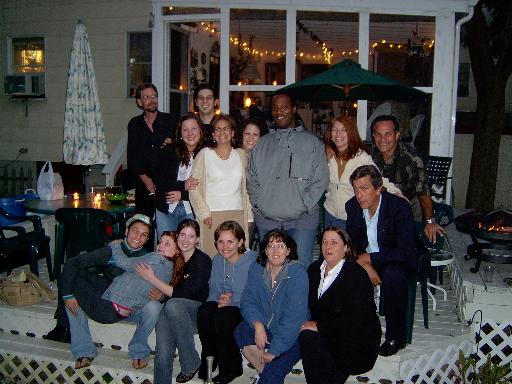 Cast, crew and friends
Time to go and relax!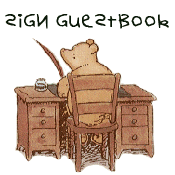 comments?

October 1, 2004

TGIF
Yes, it's Friday. It's amazing how good a person can feel at the end of their work week. Even Pooh is celebrating. Yes! I do enjoy this schedule, though. I like getting done early.
Tapestry went well yesterday. We had one person there to see us, a student who emailed me for information after seeing the listing on the Deaf NYC e-mailing list. I don't know why I get nervous. We really work hard, although we never seem to feel prepared before we begin. We always seem to be just fine, though.
The weather is starting to feel fall-like, although we've still had some humidity, I guess left over from the hurricane activity down south. It looks like we'll have a really nice weekend, though.
Off to have dinner, ttfn!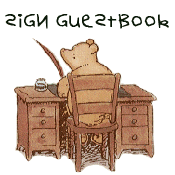 comments?