home honig family theatre spot journal links
May, 2005
May 27, 2005
Carrie is American Idol
Once again, just in case you're living under a rock and haven't gotten the news yet! Don't get me wrong. I think she's adorable. I just don't like country music and I guess that's what she'll be recording. I would have preferred to see Bo win it because I think he's a better performer but it might be better for him this way. If you look at Clay's career, Bo may very well have the same thing happen to him. Clay's fans range from teen girls to women my age and I get the impression Bo's fans are very much in the same categories. I'm still much more interested in seeing Bo's cd go on sale and I'll be on the lookout for that. Interestingly enough, the day of the final show, the vote on aol was at 50-50 but yesterday, when the vote question was, "Did America get it wrong?", 63% thought Bo should have won. I can't complain because I didn't vote!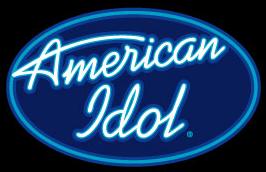 I still haven't watched the final show! I have it recorded but haven't taken the time to sit down and watch it.
I'm off today and Monday and I'm glad it's actually going to be warmer today. It took long enough! It has been downright cold this week and the rain didn't help. I wasn't expecting sun today and that's a nice surprise. I would have settled for some warmer temperatures but this is a nice bonus.
ta-ta for now!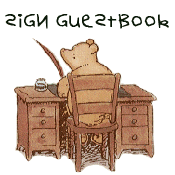 comments?

May 24, 2005
American Idol - Who will it be??
Bo Carrie
It's all over but the voting! We'll find out what happens on the finale tomorrow night. I think Bo might have the edge and if you believe the poll on AOL, Bo's winning it. I don't think it matters much what happened on tonight's show. America already knew who they wanted before they both sang tonight. I'd love to see Bo win and I've already said I'll buy his cd first. Carrie's such a sweet girl and I wouldn't be sad if she won. I just don't like country music much. Bo's voice appeals to me. Plus, he's so darn cute!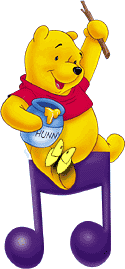 Pooh and I will be watching tomorrow!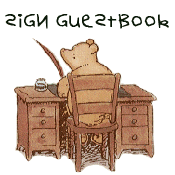 comments?

May 22, 2005
Nuttin' much new
Just the usual weekend stuff, cleaning, laundry, various and sundry things. I need to go to the food store for a few things, fruit, mostly. I have less than a month to go before the end of the school year. It moved so quickly, it's hard to believe. I wish the weather would warm up a little but I'm grateful we haven't had the inevitable 90 degree days we usually have before the end of the school year. Hopefully, we can avoid that.
This week is the finale of American Idol. Even THAT seems to have moved faster than expected! It seems that it will be very close between Carrie and Bo and either one can win. I have a feeling Bo might just edge it out at the end. It doesn't really matter who wins. They'll both have a successful career. I know that the first cd I'd like to buy will be Bo's.

I'm reading an unpublished novel written by Allen Appel, who wrote the time travel books I'm a fan of (Time After Time, Twice Upon a Time, Till the End of Time and In Time of War). I was able to contact him through his website. He sends the book to fans to read and mail back. I was on the list and it's my turn to read it now. I'm enjoying it so far.
That's enough for today. My hands are aching!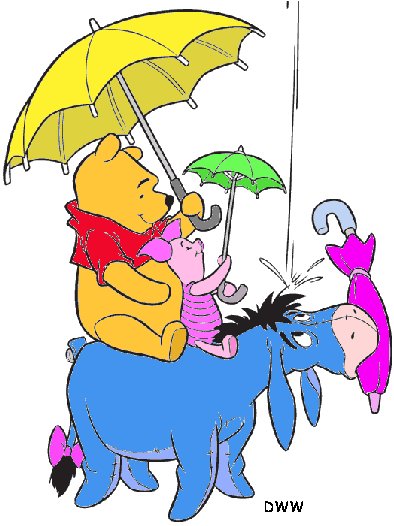 Geez, big picture!!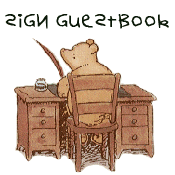 comments?

May 18, 2005
Which Disney character are you?
You scored as Peter Pan. Your alter ego is Peter Pan. You are a child at heart. Anything you believe is possible, and you never want to grow up.



| | | |
| --- | --- | --- |
| Peter Pan | | 88% |
| Goofy | | 75% |
| The Beast | | 63% |
| Cinderella | | 63% |
| Sleeping Beauty | | 56% |
| Pinocchio | | 50% |
| Snow White | | 50% |
| Ariel | | 38% |
| Donald Duck | | 6% |
| Cruella De Ville | | 6% |


Which Disney Character is your Alter Ego?
created with QuizFarm.com
Give it a try!

Pooh wonders why he's not on the list!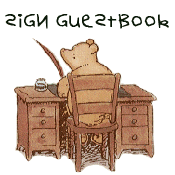 comments?

May 16, 2005
Monday, Monday...
Loooonng day today. My student managed to drift through the day accomplishing absolutely nothing. Well, almost absolutely nothing. It tires me out dealing with that and it is near the end of the year. Right around this time, springtime, I get a bit burned out. I'm ready for summer. Another month, another month!
Physical therapy is helping my shoulder, although it's quite painful. I do have much more movement than I had before. I have a few stretches I have to do during the day. It hurts a little during the stretch but the muscles feel looser. Therapy wasn't as painful today as it was on Friday. Wow. It really hurt. I still have to make the appt. to see the orthopedist. I've been so busy lately and I just keep forgetting. You'd think I'd remember since my hands always hurt but I think I'm just used to it. It's just an everyday thing.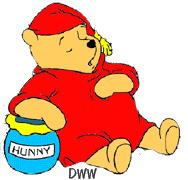 I'm tired, I'm ready to join Pooh in a nap!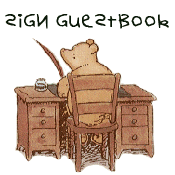 comments?

May 14, 2005
Theatre...and more theatre...
So, I've been hard at work the past couple of weeks on vines for the Smithtown production of Little Shop of Horrors. I made four 10-foot long vines and one 7-foot long vine. All counted, I probably made close to 75 soft sculpture leaves. Some of these things will be used to decoration and two will be used in the show itself, probably starting tonight. I think two of the large vines will be on the marquee outside. That sounds like fun! It will attract attention, that's for sure.
This afternoon, Bill and I are going to see that matinee of Streetcar Named Desire. It's part of the Roundabout subscription. Then, Kelly will meet us in the city and we'll see something this evening as well. It was supposed to rain today but it looks pretty good out now so I'm pleased about that.
Got to go get ready. Have a pleasant weekend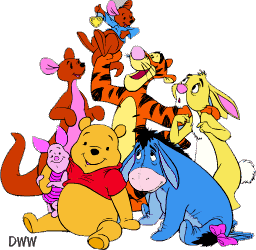 whatever you choose to do!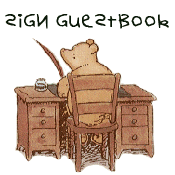 comments?

May 13, 2005
Friday the 13th
Nah, I'm not superstitious. I'm just glad it's Friday. It's been a busy week. Maybe that's why it flew by. I've been busy making vines for Smithtown's production of Little Shop of Horrors, which opens tonight. I made 4 10-foot long vines, one 7-foot long vine and approximately 75 soft sculpture leaves. They look pretty good.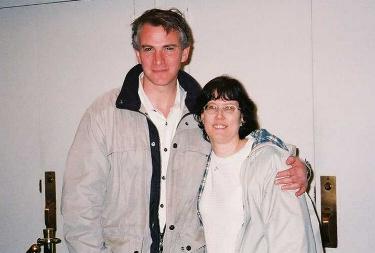 Here's a picture of Douglas and me at City Center, courtesy of Kathleen. Wow, I don't realize until I see a picture how much taller he is.
Bill and I are going to see a matinee of Streetcar Named Desire tomorrow afternoon. I hope the weather's nice. The last couple of times we've been in the city, it's been raining. The day this picture was taken, the heaven's opened up later in the evening. Ugh.
Off to see the opening of Little Shop. Happy weekend!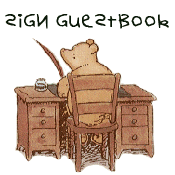 comments?

May 8, 2005
Happy Mother's Day to all the Moms out there...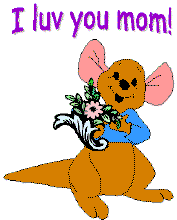 My gift from my three is a lovely bracelet with my birthstones. Very pretty. The card is really funny: On the front: A Mother's day riddle - Why did the mom cross the road? (picture of a chicken) Inside: No one could tell, really. She was mumbling to herself about peace and quiet. She circled the block a couple of times and came back a lot happier. The reason this is so funny is that when they were young and would ask me, "Mommy, what do you want for your birthday", I'd say, "Peace and quiet". They'd look at me a couple of seconds and then say, "No, really, what do you want for your birthday". From my hubby: flowers and Bath and Body Works gift card. He says it's an old standard but it always works. Heehee.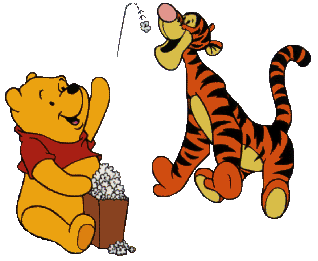 We saw Kingdom of Heaven Friday evening. It was really good and we both enjoyed it. I had to hide behind my hands a bit! It's definitely violent. I can usually handle it as long as it's random violence. What I can't handle is when I become emotionally attached to a character and then they kill him off, usually with some slow, agonizing death. Yuck. This was random violence, though, just the usual soldiers getting massacred. I don't enjoy it but I can deal with it. And yes, I enjoyed watching the lovely Orlando Bloom. And it's a good story.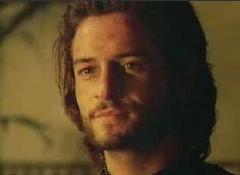 I'll leave you with a little photo for your viewing pleasure.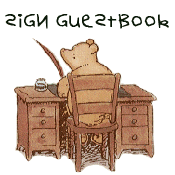 comments?

May 6, 2005
TGIF and I love NY
I'm so thankful that it's Friday. Geez, I'm tired!
Last night, I met Jan in the city for dinner and another visit with Douglas before his show closes this weekend. As I was walking back to Penn Station, three young ladies were running down the street, possibly trying to catch a train at the station. After they passed the pedestrians, one young man called down the street after them, "Run, Forrest, run!" Only in NY. I chuckled.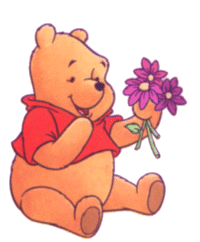 Pooh says Mother's Day is this weekend.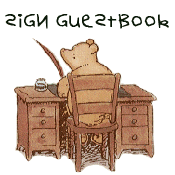 comments?

May 1, 2005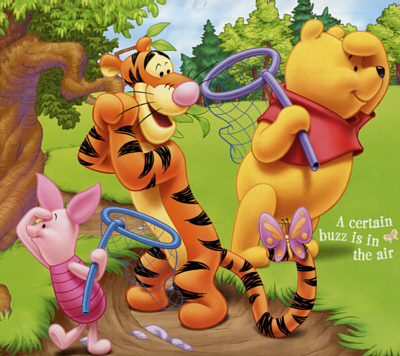 Welcome to May, cloudy as it is. It was raining quite a bit this morning but word is it will clear up and warm up as the day goes on. Always nice to hear.
I can't believe the school year has flown by so quickly. I think there are 33 teaching days left in the year, before testing begins. As one teacher at Copiague puts it, "33 more wake-ups". Not that anyone's counting, you understand, but it feels like we were just mid-way through the year.
Have a pleasant day!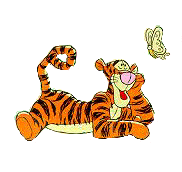 ta-ta!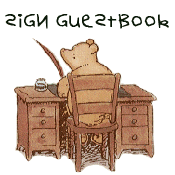 comments?