home honig family theatre spot journal links
March, 2006
March 17, 2006
Top o' the Mornin' to Ya!

Happy St. Patrick's Day! Even though it's Friday during Lent, we're allowed to eat meat so we can all enjoy our corned beef and cabbage today. We're going to have our big dinner tomorrow, though, so we can all eat together. Have a pleasant day, all.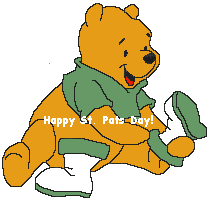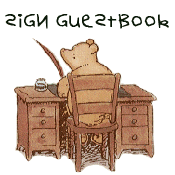 comments?

March 11, 2006
Lorelai's first show and other stuff
Kelly, Lorelai and I spent Friday together, as usual. We had pizza at Bertucci's (as it is Lent) and then went to Smithtown to check out the last dress rehearsal of Smokey Joe's Cafe, which opens today. Everyone was delighted to see the lovely Lorelai and she was wide-eyed and fascinated with all these new sights and sounds. We watched the first act (very cool) and Lorelai very much enjoyed the uptempo numbers. She stared at the stage with all the lights, dancing and activity. She lost interest when they sang ballads, however. It was interesting to see what would catch her attention. She's a rocker girl. She loves RENT. Actually, she loves whatever we can sing to her. I was singing Jane Eyre to her the other day.

During the intermission, Kelly brought her backstage to see the cast and Lorelai fell asleep on Kelly's shoulder so we brought her home. I'll have to go back and see the second act, hopefully before Sue and I interpret.

I'm excited that there is a new production of Children of a Lesser God coming up in the city. The actress playing Sarah was in the Roundabout production of Big River, which I absolutely loved. Sue and I plan to go and see this show, probably in early April. Then, in May, we'll be interpreting another night of play readings. This one will be "duets", meaning two actors instead of monologues. If anyone would be interested in seeing us interpret, I'll try to remember to post the info here. Also, we'll be interpreting Smokey Joe's Cafe at Smithtown on Thursday, March 30.

I'll be doing some soda bread baking this week. It seems that we are able to eat meat on Friday, St. Patrick's Day, so we can have corned beef. However, Dad has to work Friday evening so I think we'll do the corned beef dinner on Saturday anyway. This way, I can cook it the regular way. Last year, I cooked it in the crockpot.

ta-ta for now...
P. S. I imported this from my blog on myspace, which is why it has a purple border. I can't erase that and I didn't want to retype the whole thing.
How much does Lorelai look like her mommy? Nothing like photographic proof: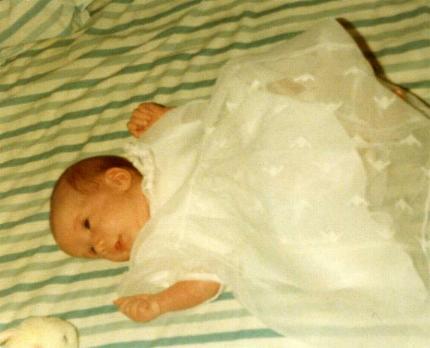 Kelly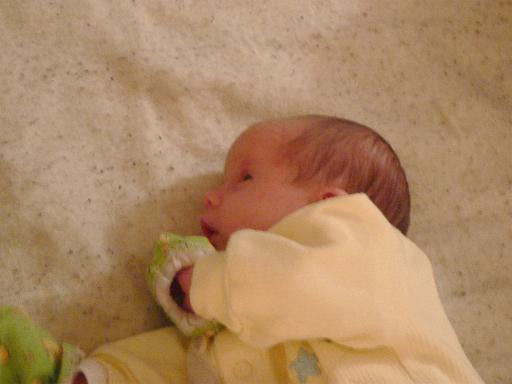 Lorelai
Pretty darn amazing, I think.
Gotta go clean on this mild, sunny Saturday.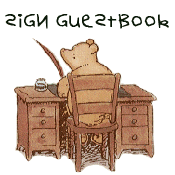 comments?

March 3, 2006
March, UFO's and random pictures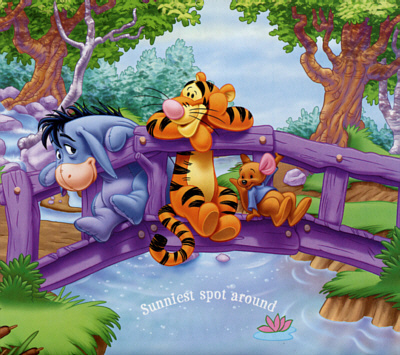 Well, it is nice and sunny out today but it's cold, in the 20's. But, spring is just around the corner. After all, "March comes in like a lion and goes out like a lamb". That's what we hear, anyway.
Here's a random picture: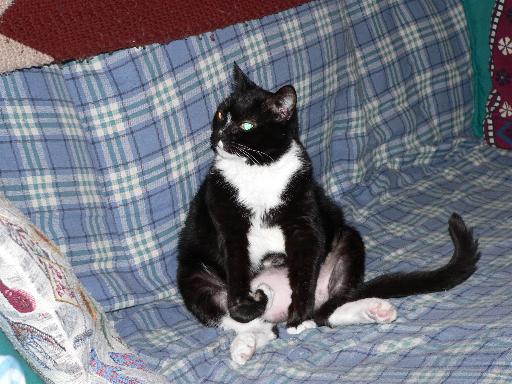 Silly Boots. She looks like Buddha, doesn't she? She's really not that fat. It just looks that way when she sits like this. This is how she sits when she's giving herself a bath. She's such a goofball.
In the knitting department, here are a couple of UFOs (unfinished objects) that I promise to finish when I'm done with the recently started baby things: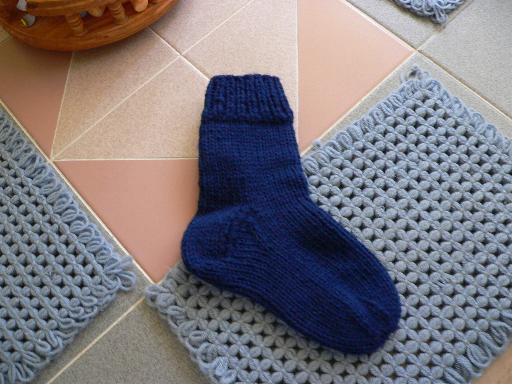 Well, technically, this isn't an unfinished object. This one is finished. It's just missing a mate. This is the "Joan's socks" pattern you can find on the Lion Brand Yarn website. I love these socks. They're so warm. You make them with wool ease worsted weight but you knit them with two strands of yarn so they're really thick and warm. They're also fast since you're using bigger needles than you usually use with a sock pattern. They're lots of fun to make. I will finish these. I have several already but I didn't have any blue socks. They're great with boots, in fact, they really don't fit with regular shoes. I'm excited that I've recently found a post on a knitting site by someone who actually altered this pattern to fit children. So, I'll be able to make some of these socks for Lorelai when she's a little older.
This is the beginning of a sweater, also a pattern from the same website: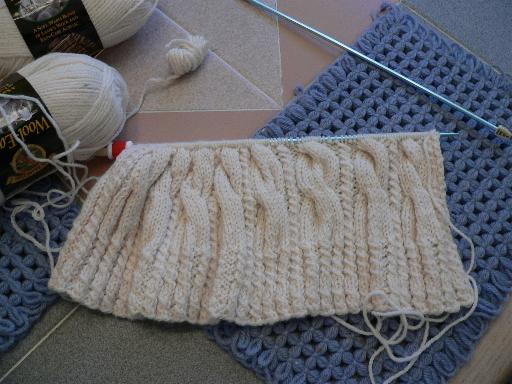 I love cables. This is a sweater for me, which is why it keeps getting put on the back burner. This also is a wool ease pattern. It's my favorite yarn and also works very well on the knitting machine.
I also have a pair of socks started for myself that I didn't remember when I took these pictures. It's a pattern from a book called Folk Socks. There are a couple of patterns in this book I'd like to try. Socks are so much fun to make. When you see the heel taking shape, it's such a sense of accomplishment.
And, last but certainly not least, here's another Lorelai picture: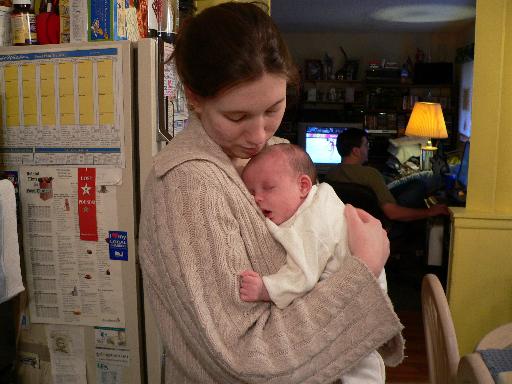 The little angel in her Mommy's arms. Lorelai recently had another visit to the pediatrician. She now weighs 8 pounds, 9 ounces so she's gained more than two pounds in the month since her birth. Thank goodness, she's eating well and she's healthy.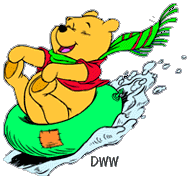 So, happy March and, hopefully, we'll see no more of the white stuff. Bring on spring!
ta-ta!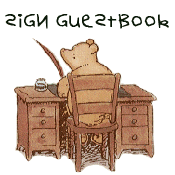 comments?