home honig family theatre spot journal links
June, 2006
June 30, 2006
Goodbye June
Although I still have been busy, I haven't been at work since June 14. Well, that was the last day of classes. I did interpret graduation practice and graduation last week, Thursday during the day and Friday evening. That was officially the beginning of my summer vacation. Life is good. Last weekend, during the deluge, we attended a sweet 16 party...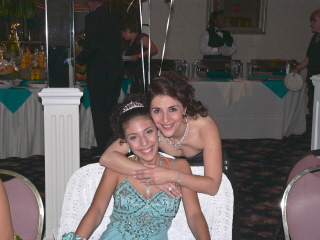 followed by the wedding...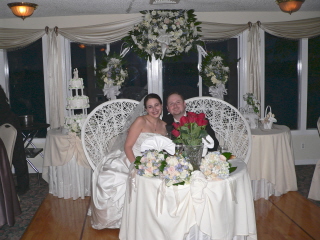 Pictures from both events can be found on yahoo: Yahoo! Photos I hope that brings you to the page. Since I was signed on, I don't know what happens if you click on that link without being signed on to yahoo. We had a lovely time at both parties and the wedding ceremony was beautiful. I understand that it was supposed to be outdoors but the pouring rain sent everyone inside to the chapel, which was intimate and beautiful.
I made a little romper dress for Lorelai yesterday. Actually, I started it on Wednesday but I needed the snap tape for the bottom of the romper part and had to buy that yesterday so I was able to finish it yesterday afternoon. It's really cute. Hopefully, I'll take a picture of Lorelai modeling it. I'm also sorting through the knitting projects, trying to see what I'll finish first. I always thought I was the only one who had several projects going at the same time. Thanks to the internet, and blogging, I realize I'm not alone. Cool.
I will try to get myself to start July on the first of July! I should be able to do that, because, after all, I'M ON VACATION!!!
I will also try not to shout that too loudly....
ta-ta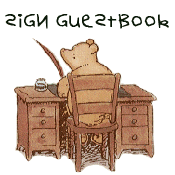 comments?

June 21, 2006
Completed Quilt...Holy cow!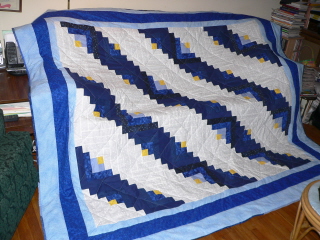 This thing is ginormous, as Kelly would say. And, most importantly, it's done! In the future, if I decide to make a queen size quilt, I'll have to seriously rethink the quilting part. It was so difficult to handle, just because of the size. It was painful working on that part. I'll have to look for a quilt shop that quilts by machine for you. I don't know how much that would cost but it would probably be worth it to save the hands, neck and shoulder.
It does look nice, though, doesn't it?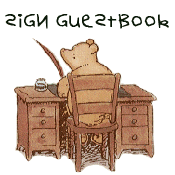 comments?

June 18, 2006
Father's Day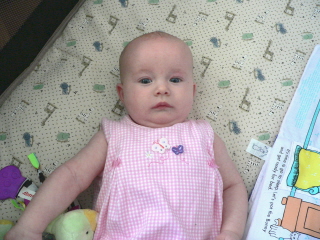 Here's the newest picture of Lorelai. Nana couldn't coax a smile out of her today as she spent Father's Day with us. We went to Outback and Lorelai behaved very well. However, during the day, she spent precious little time doing this...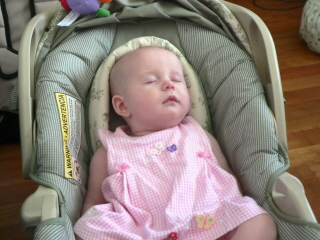 She's still cute as a button!
I'm working on a quilt for Bill's coworker, who is getting married next week.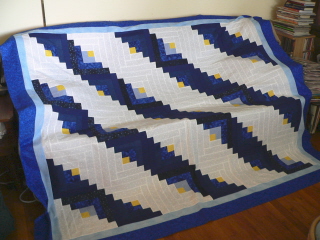 I made Log Cabin blocks and set them in a "straight furrows" design. Actually, after I took this picture, I measured it (it's for a queen size bed) and it still wasn't big enough so I added another border with the lighter color blue I used for the first, smaller border. It's the size of the darker blue border. Hopefully, this is big enough. I started marking it but I will continue tomorrow morning and then I'll quilt it on the machine. I have the binding ready to go so I can do that once the quilting is done. I'm quilting it in diagonal lines five inches apart, the distance recommended by the maker of the batting. I'm impressed, if I do say so myself. This is definitely my best effort. It looks great. I think I'm finally getting the hang of this.
Lastly, I was reading an article on aol that caught my interest. It's about the former "young adult" actor, Dustin Diamond, who was on the TV show, Saved By The Bell. Apparently, he's in danger of losing his house and has a web site set up to sell t-shirts, the proceeds going to paying the amount necessary to save his home. I had to do it, I felt so bad for the guy. I hope this works. Just thought it might be charitable to spread the word a bit.
Happy Father's Day to all the Dads and toodle-oo.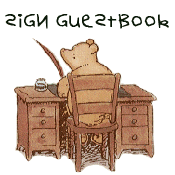 comments?

June 15, 2006
Yesterday was Flag Day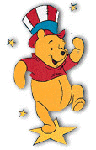 Yes, it was Flag Day but I couldn't post about it because I had to pay for my domain name. I kinda forgot so the site was "down" yesterday, as in nonexistent. All is well and I'm back online. That's what happens when you have to pay for something once a year and it happens to be at a very busy time of the year. Ah, well. No harm done.
I'm working on a queen size quilt for a friend who is getting married at the end of the month. Today, I completed 30 log cabin blocks that I will sew together tomorrow morning. It's looking good so far. Pictures, of course, will follow.
Last night, I met with three students from my most recent ASL class. We supposedly got together to practice signing but we talked more than we should have! We had a good time, though. We're planning to see some interpreted shows and, hopefully, have some more productive meetings.
ta-ta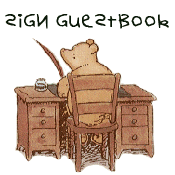 comments?

June 9, 2006
Hey, guess what?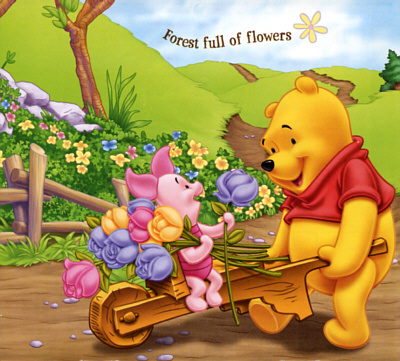 It's June. It appears I'm rather late again. Not only is it June but it's very near the end of the school year. Otherwise known as the time when I go slightly crazy. Or slightly crazier than usual, take your pick. At any rate, insanity prevails. As a result, other things in my life tend to fall by the wayside somewhat. Sigh. Tuesday is the last day of classes. There is a God.
The relief is just starting to sink in and, of course, today is Friday. That's almost as good as next Tuesday!
My mind is reeling with projects and fun things I have planned for my time off. More details will follow, I'm sure.
Sue and I interpreted Grease at Smithtown last night. Three deaf theatre-goers attended this performance, along with a student of sign language. They all seemed to enjoy the show quite a bit, which is gratifying. We all chatted during intermission and after the show. Their appreciation of our efforts gave us an ego boost. We had a few people come to the performance of Smokey Joe's Cafe, as well, so it looks like we're finally beginning to build an audience. Those who saw the show last night expressed an interest in seeing South Pacific, the next show we will interpret (in August). We assured them information will be available on the Hands On site, which I believe is how they found Grease.
I will make an effort to fix the link buttons soon. It's annoying me but I don't have the time at the moment to do the repairs. Soon, I promise.
Off to enjoy Friday evening.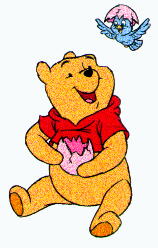 p.s. The sun is shining. This is significant because it seems like we've been living under rain clouds forever. Well, maybe not forever. I think it had been raining for two weeks, maybe more. We're all a little unsure that this weather will stay for awhile. And the sun is almost blinding when you haven't seen it in weeks!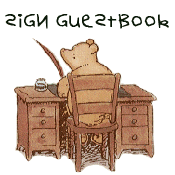 comments?