home honig family theatre spot journal links
July, 2003
July 31, 2003
We interrupt for a P.S.
Douglas Sills returns to Broadway in Little Shop of Horrors (official site), performances beginning August 29, 2003. Ahem, yes! We now return you to your regularly scheduled lives.
__________
July 30, 2003
Boots and Shakespeare
The two cats are coexisting now, at least most of the time. For awhile there, I wondered if they would ever get used to each other. Shakespeare is much more relaxed around the rest of the family so he doesn't have to spend the entire day in the girls' bedroom. Here they are checking out the view together from the kitchen window: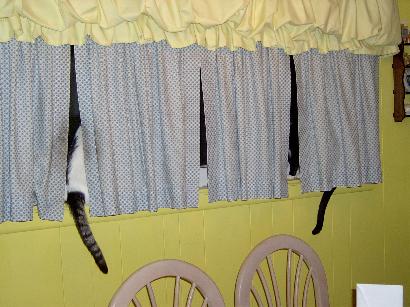 On another topic, the living room has been shaping up nicely. I have canvas to make a floorcloth, which I hope to finish before September when I go back to work, but the floor makes such a difference. It looks so nice.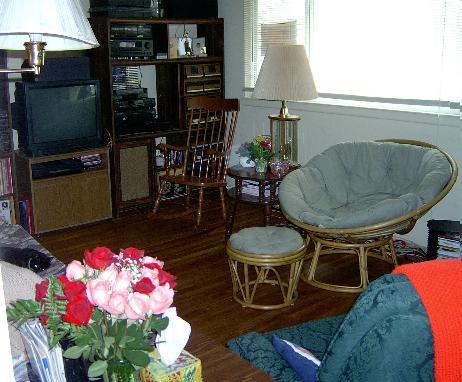 I finished making a cushion and pad for the rocking chair and will take a picture of the completed room once I finish the floorcloth.
I have been wearing a heart monitor for the past 21 hours! I have had persistent heart palpitations and went to the cardiologist to check it out. Apparently, everything's fine and this doesn't seem to be a problem but I've been wearing this monitor to see what's going on with the "electrical system". The little sticky things that hold the electrodes are very itchy and annoying so I can't wait until noon when I can take this all off! The doctor thinks it's probably hormonal and not at all dangerous but it's always good to check it out. You don't want to mess around with your health.
take care....
__________
July 28, 2003
Seabiscuit
Kelly and I saw this movie today. Ok, I'm not much into horses or horseracing but I just love Tobey Maquire so, hey, why not? Well, this is such a beautiful movie, so well done. Definitely have tissues on hand as it is a tearjerker. I hope it does well when Oscar time rolls around. I won't give anything away. Go see it!
__________
July 26, 2003
What I'm reading
Speaking of reading.... I recently finished a fascinating book by Jennifer Fleischner called Mrs. Lincoln and Mrs. Keckly. I love to read about the Civil War but I'm less interested in the details of the battles (although I have read about them) and more interested in the lives of the people involved and how they were affected by the war. This book has so much insight into the lives of Lincoln and his wife, as well as Mrs. Lincoln's friendship with the former slave who was her dressmaker. I enjoyed it very much.
I'm now in the midst of Mr. Darcy's Daughters by Elizabeth Aston. If you are a fan of Jane Austen and enjoyed Pride and Prejudice, this book picks up the story twenty years later when Mr. Darcy now has five marriageable daughters! I got into this story very quickly. It's always nice to read a novel after reading about history. I'm enjoying it and I can't wait to find out how Mr. Darcy reacts to his daughters' escapades.
It's been a quiet summer. I finished making a cushion for the living room rocking chair and I'll be quilting today, most likely.
Till next time...
__________
July 20, 2003
Well, I tried to set this up so the links were on the top (or the side) and the text along the right side but I don't know how to do that so this will have to do. I don't want to fiddle with it anymore. I tried to use the frames but I didn't realize that the template can only be used for the first page (or index page) and whenever I tried to link, it opened the pages in the frames instead of going to those pages. Obviously, I'm not ready for that fancy stuff! This will do nicely. I eventually plan to put those link buttons across the top of the other pages but I don't feel like it right now.
Kelly and I met Jan and Eric in the city on Wednesday evening. We had dinner at Arriba, Arriba, a really nice Mexican place, where I have, what I call, "the chicken dish I can't pronounce". I've got the "pollo" part but I forget the rest of it. We were entertained on occasion by a very chatty waiter (not ours, mind you), who should have a stand-up act. He was really funny. We all went to see Take Me Out. Ok, I suppose I was the only one in NY who didn't know there is nudity in this production. Whoa. Lots of shower and locker room scenes. It was distracting at first but after awhile, I was actually able to concentrate on the dialogue! It's a very funny play and Denis O'Hare deserved that Tony, let me tell you. He walks away with that play.
Kelly and I saw Shakespeare in the Park, Henry V on Thursday evening after an enjoyable day traipsing around NY and Central Park. It was a beautiful day, warm but not too warm, very sunny and breezy. I finally got to the big, three-floor Disney Store on Fifth Avenue, where I bought myself a hat. Very touristy but fun. I really enjoyed the play, although some of the director's choices were interesting, including soldiers riding horses played by actors. Overall, it's really exciting, particularly the battle scenes.
P.S. If you want to sign the guestbook (please, please, pretty please!!! Don't make me beg!), you must click on "view the guestbook". I realize it's vague. Sorry about that.
Off to go read my book...
___________
July 12, 2003
Well, it didn't take me as long as I thought it would to get this website "operational" again. I've had this domain name for about a year and only moved part of the site over from geocities, its former home. This is what happens when I'm off for the summer and have time on my hands. After having been so busy during the school year, the first few weeks off leave me wandering around, looking for something to keep me busy. I have several craft projects to tackle but no real major renovations planned. We've done the big jobs that needed to be done (for now) and the house is shaping up better than it has been in years.
Let's see, what's up lately? I've seen some shows lately and have gotten some good deals on them as well. This spring, we were able to see Doug Storm as Bat Boy at the local CAP center, which is only about twenty minutes from here, at the astounding price (with discount) of $10. Now there's a bargain if I ever saw one. I saw Bat Boy three times during its stay here on Long Island. We also saw Big River recently and Kim, Kelly and I just loved it. It's an American Sign Language adaptation of the Roger Miller musical, which had been on Broadway in the 80's, I believe. Deaf and hearing actors perform side-by-side. It's a unique and beautifully done production. Information can be found here: Roundabout Theatre Company
I guess that's a good start for now. More later, if the inspiration appears!
P.S. Saw Pirates of the Caribbean today. It was great, nonstop action and fun. Great summer movie and I highly recommend it.