The Scarlet Pimpernel Scrapbook

Version 4.0 aka The National Tour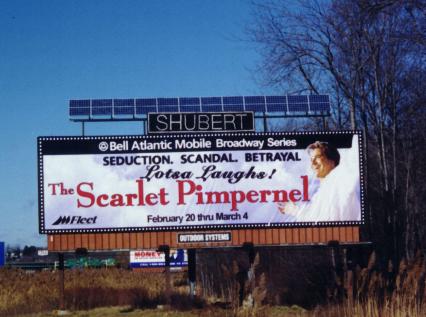 (photo courtesy Jan Kolb)
The tour kicked off in late February/early March in New Haven, Connecticut. Douglas was back in the role of Percy for the first four months of the tour. We saw the show twice during the New Haven run, on February 24 and March 4, 2000. It was strange walking into a completely different theatre, in a different city, and seeing the familiar curtain, the sets, etc. Douglas was back in ad-lib mode and all was right with the world! As Harvey Evans stepped onto the stage directly in front of our third row seats, Kelly involuntarily let slip, "Harvey!" He smiled and later looked for her at the stage door, where we naturally did the photo op thing again. This is my favorite picture of Kelly and Harvey. This is also a really nice picture of Kelly and Douglas.
On May 4, 2000, a tribute to Nan Knighton was held at Sam's Restaurant and we had a chance to revisit two of the leads from the run of the show at the Neil Simon Theatre. Marc Kudisch and Carolee Carmello performed music from SP and Bryan Batt, standy Percy from the Minskoff run, performed as well. Here's a picture of Bryan I like to call the disembodied hand. Interesting, isn't it? Marc looks great here in this picture and here's one of Carolee. In this one, Marc kisses Carolee at the end of "Where's The Girl". Lastly, here is Nan, apparently seeking someone.
On Memorial Day weekend, Nancy and Colleen Rosati, Kelly and I ventured to Los Angeles to catch a few shows of the end of Douglas' run with the tour.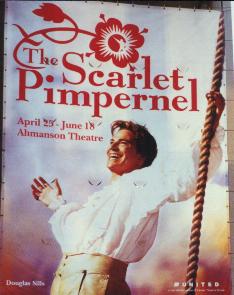 Kelly has promised to eventually record her wrap-up of this weekend so I'll make this one brief. We saw the show four days in a row and at the last performance, I finally saw the show interpreted for the deaf! It was so exciting for me, having missed the interpreted performance in NY, basically because I didn't pay attention! The interpreters were wonderful and I was thrilled to meet them after the show. We stayed in the beautiful Omni hotel, with an amazing view from our hotel window. Of course, a trip is never complete for us without the obligatory Disney visit. For Kelly and me, this was our first visit to Disneyland and Kelly finally had her picture taken with Winnie the Pooh. We had a great time.
Kelly and I finally carried out our threat to plan yet another party with the first Bastille Day celebration at Barrymore's on July 15, 2000. It was an intimate gathering, marking the occasion of the first of our unusual "goodie bags". There were many items, roughly described on the small page included in the bag:
Happy Bastille Day!
A French flag to show your colors
Some roses stolen from Sir Percy's garden
An ugly black mask for the Prince's ball
A snifter for some brandy
and something for your drained bank account!
A couple of pictures from that event: Kel, Kristal and Jan and Kelly and me. I also saw Ron Bohmer at Broadway Barks in July, 2000 and only got one decent picture of him.
In August, 2000, my husband, Bill, and I celebrated our twenty-fifth wedding anniversary. We took a trip to Disney World in Orlando, Florida. Before we left on that trip, we took a side trip with Kelly and Colleen to Pittsburgh to see Ron Bohmer, Carolee Carmello and George Dvorsky in Anything Goes. I'm so glad we made the trip since it was a wonderful production in a huge and beautiful theatre. The trip, however, was LONG and Pittsburgh is a difficult place to navigate, especially when there is construction! It was a terrific show, though, and another opportunity for a photo with Ron.
September, 2000 brought us to Allenberry Playhouse in Pennsylvania to see T. Doyle Leverett in the role of Emile in South Pacific. One of the joys of seeing SP ensemble members in leading roles is learning how incredibly talented all of them are. T was just terrific. It was so much fun seeing him again and what a treat for Kelly when we discovered her friend, Dana, was performing in the same show. After the matinee, Kelly, Bill and I joined T and Dana for dinner at a local Chinese restaurant followed by a trip to Dairy Queen! Kelly says of this picture that it appears that T is trying to sell us one of the cars in the lot behind him.
It was back to Connecticut, namely Hartford, for us in October, 2000 when the SP tour came through our area again. This time we caught Robert Patteri in the role of Percy and we loved his performance. He brought something new and different to the role. We did not see William Michals at this performance, although we had seen his portrayal of Chauvelin in New Haven and Los Angeles. In Hartford, we saw Aaron Paul as Chauvelin and were amazed when he brought the end of Falcon in the Dive up an octave! Wow! Here are a few leaguers in the bright sun at the Bushnell Theatre and Robert Patteri meeting leaguers.
Once again, leaguers gathered, this time at John's Pizza, for the third anniversary of The Scarlet Pimpernel on November 18, 2000. James Dybas and Bryan Batt (picture by Margaret Lo) were kind enough to join us that day, along with Jim Hindman. Nancy Miller sent us a great calendar to raffle and it was won by Sal. We repeated the "goodie bag" idea with this party.
Although the tour officially ended April 1, 2001 in Grand Rapids, Michigan, the tour ended for us in Providence, Rhode Island on Saturday, March 24, 2001. Although the theatre in Providence was quite nice, there was nothing much in the city to see except the show! That's ok, it was nice seeing Ron again. After seeing the show there, we were ready to say goodbye and end our Broadway/tour chapter of The Scarlet Pimpernel.
When the tour was winding down, many of us posted our memories on the SP message board. At the end of my scrapbook, I included my memories:
Memories Lest We ForgetÖ
Where to begin? I still have no explanation whatsoever for what compelled me to see this show so many times (Iíve lost count around 60). Iíve seen many shows that moved me or made me laugh or cry. Iíve seen shows more than once. Never before did I feel that it was important to tell those people how much I enjoyed the experience. Yes, it is a story that still appeals to me. It has it all; romance, adventure, laughs. It leaves me feeling positively joyful and that feeling has never left me. I still feel that thereís more to it than that. From the beginning, it was evident that this was a remarkable group of people. As we embraced them, the cast of the Scarlet Pimpernel opened up to us in a way that I donít believe is typical. Members of all four casts have been so kind. I will never forget that or the wonderful times weíve shared.
I must also mention the friends Kelly and I have made from this experience. We were drawn together by a common interest and soon found other reasons to remain friends. We are a unique community and we should be proud of that!
Now, what I remember (in no particular order):
-- The brunches and assorted get-togethers. The intimate yet crowded soirees at Samís, the still crowded get-togethers at Broadway Grille, baking cupcakes, making favors, Amy Garganís badges, flower toss days, cast members spending time with us, James Dybasí birthday (and the trick candle!) and his lovely speech, Harveyís speech at Barrymoreís, special times indeed.
-- The funds we all raised for Broadway Cares/Equity Fights AIDS. In all the time we spent together, think of what weíve accomplished. The auctions arranged by Kirby and TPC, all the work done by the cast and how their enthusiasm was so infectious, Stephen Hopeís tireless work. Iím honored to have been a part of that.
-- Memorable times watching the interaction between Kelly and Douglas. That was a show in itself!
-- Seeing the show interpreted in sign language in Los Angeles. Feeling that Iíd seen the show for three days and I could just watch the interpreters and then missing Douglas break the cane, proving you just canít take your eyes off the man for a minute! Watching the interpreters and learning from them was such an experience. Making an absolute fool out of myself when I met them (Colleen had to explain that I am an interpreter and thatís why I was gushing like that!). As Kel has already mentioned, the beauty of ďIíll Forget YouĒ making us both cry and reminding me why I chose this profession in the first place!
-- Douglas telling me to stop mothering him! Ok, Iíll try.
-- Ronís bleached hair. ďDo you like it?Ē ďNo.Ē
-- The poor fan talking to Douglas, telling him she liked his hair shorter (meaning without the wig). Group of leaguers shouting, ďNO!Ē Douglas trying to explain to the poor frightened fan, ďTheyíve seen me with short hair and they donít like it.Ē
-- Traveling to see either SP or alumni. Thank you to Douglas for performing in such beautiful places! Trips to Florida (Once in a Lifetime concert), California (Scarlet Pimpernel in L.A., Much Ado About Nothing in beautiful Costa Mesa), Pennyslvania (T. Doyle Leverett in South Pacific at Allenberry, Ron, George Dvorsky and Carolee in Anything Goes in Pittsburgh), Stephen Hope in Camelot at Westchester Broadway Theatre, Scarlet Pimpernel in Hartford and New Haven, Mark McGrath in Chess (with David Masenheimer and Michael Halling) and Company in Hartford, Michael Halling in Show Boat here on L.I. and practically in our own backyard! Have I forgotten anyone?
-- People we will forever search our playbills for: Douglas Sills, Terrence Mann, Christine Andreas, Ron Bohmer, Marc Kudisch, Rachel York, Mark McGrath, T. Eric Hart, Doug Storm, Terry Richmond, Stephen Hope, Harvey Evans, T. Doyle Leverett, Bryan Batt, George Dvorsky, Carolee Carmello, etc., etc, the list goes on!
-- Finally seeing the costumes! Everyone who knows me knows what a thrill that was!
Iím sure Iím going to finish this and remember tons of things I havenít included here but itís too long already. To friends and fellow leaguers, thank you for understanding my obsession. To cast members and alumni: THANK YOU! Youíre in my heart always.
Liz
It's been quite a ride but as long as we can see "alumni" in future productions and stay in touch with friends made, the memories will continue...