home honig family theatre spot journal links
December, 2004
December 30, 2004
Happy New Year.....almost
Hello, all. It's been busy, busy this week around here. Although this was my vacation week from my actual job, I worked all week at The Wizard of Oz (affectionately known as TWOO). The show closes Sunday and I'll be working both shows. I go back to work the following day. Actually, I'm going back to work to take a break. I'll get more rest there since after I leave the job at 2:30, I'm free for the rest of the day. Well, there's always the February break.
We had new floor tile installed in the bathroom today. It looks beautiful. However, since we can't walk on it and all the water in the house is shut off, we can't stay there tonight. Bill and I are at a hotel and the kids are staying with various friends. The job will be done tomorrow. It was a bit of upheaval but it will be worth it. It really makes a difference. Boots is confused, though. I put her litter box and food in our bedroom and she keeps walking back and forth from the bedroom to the bathroom. She hid under the bed while the work was done. Poor baby.
I've started an album on my yahoo photo page for the pictures from Wizard of Oz. Go to the Honig Family Page and look for the link to yahoo. The album is TWOO. I have several more pictures to post and might do that tomorrow, if I have time. Keep checking it.

I read Dickens' A Christmas Carol again this year, as usual, but this year it was part of a book by Simon Callow which is about Dickens and Christmas in Victorian times. It's a very nice book. I also read a funny book by Christopher Moore entitled The Stupidest Angel (a heartwarming tale of Christmas horror). It's definitely wacky and cracked me up. I'm insisting that Kelly give it a try. The humor is right up her alley. I'm now starting the sequel to Time After Time by Allen Appel.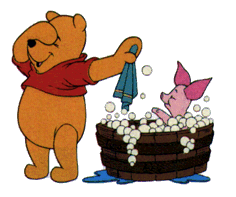 Time for a nice bath. Until next time......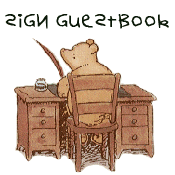 comments?

December 25, 2004
Merry Merry Christmas!


My Christmas wish for you: a pleasant day with family and friends, great gifts under the tree, lots of yummy goodies to eat and a happy, healthy new year. Let's pray for peace on earth.
Love to all,
Me 'n Pooh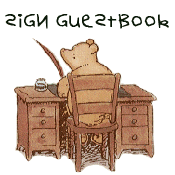 comments?

December 21, 2004
A day late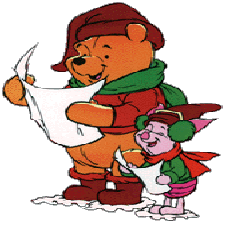 Yesterday was the Winter Solstice, also known as the first day of winter. It's the shortest day of the year, with approximately nine hours of sunlight. I found some interesting info, very technical, about the solstice here.
Busy, busy getting ready for the holiday. I still need to finish baking.
Off to get ready for work....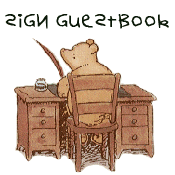 comments?

December 15, 2004
Brrrr....cold, cold, cold....

and Pooh's a little underdressed, I think. I hate the cold. I haven't had time to get back to the Hyundai dealer and have Junior install the remote start. Wish I had done that already. I would appreciate it this morning, that's for sure.
We decorated the tree last night. I'll take pictures later, if I'm awake. I'm so tired this morning. The alarm was a very unwelcome sound. = (
Starting my day...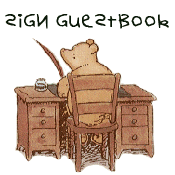 comments?

December 13, 2004

The holiday is almost here. I'm really excited about Christmas. I think I just need the day off!
Tonight, Kelly and I attended a free showcase presentation at the Hirschfeld Theatre. It was called a Broadway Extravaganza and was presented by a group ticket sales organization. Kelly had the tickets from her job. It would have been about 45 minutes long if the employees of this organization didn't yap on forever. Performers from several shows on Broadway and opening soon sang songs from their respective shows. I expected to see all understudies but the regular performers from some of the shows were there. We heard songs from Chicago (and Kelly had to listen to Tom Wopat), Beauty and the Beast, Hairspray, Avenue Q, upcoming shows Brooklyn and Good Vibrations (wait, I think Brooklyn is running now) and an ensemble number from Lion King that had me wanting to see it again. We really enjoyed it. It was an hour and a half, starting at 5:30 and ending at 7pm. We walked to Penn station and got a 7:30 express train, arriving in Babylon at 8:30. Probably a new world's record. It was fun.
I'm tired. These weekends at Wizard of Oz take a lot out of a person. Decorating the tree (which is already set up and ready to go) and baking are on the agenda for the evenings this week. I'm really in the mood to bake. Just need the time.
It's supposed to be cold tomorrow. Yuck.
Goodnight, all

Stay warm, like Pooh....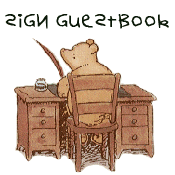 comments?

December 7, 2004
...A date which will live in infamy
Of course you know it is the anniversary of the attack on Pearl Harbor. I didn't have to tell you that. Here's the history channel account of the event.
...and have yourself a merry little Christmas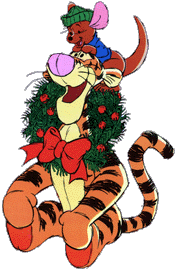 I'm getting myself into the Christmas spirit. Decorations are up outside and the tree is ready to bring into the house (although it's gotten a little wet out there in the backyard). I will take a picture of the outside decorations because, ahem, we actually added things this year. This was a necessity because the old-fashioned, big bulbs are becoming few are far between. Very far between! I guess we'll have to break down and get small, indoor-outdoor lights.
Wizard of Oz, interpreted
This Thursday evening, Sue and I will interpret Wizard of Oz. I'm glad we're doing that early and not in the midst of the holiday madness. Once again, information can be obtained by calling 631-724-3700. At Sunday's evening show, the WWF wrestler, "Mankind" (aka Mick Foley) was in the audience with his children. The kids backstage were very excited when they spotted him in the audience and ran out to meet him after the show. Hee-hee.
Off to work on this rainy, chilly Tuesday...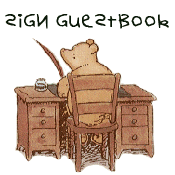 comments?

December 2, 2004
Backstage at The Wizard of Oz
Here's a picture of Kelly, me and Stevie backstage at Smithtown. It was taken by Jake, one of the actors in the show: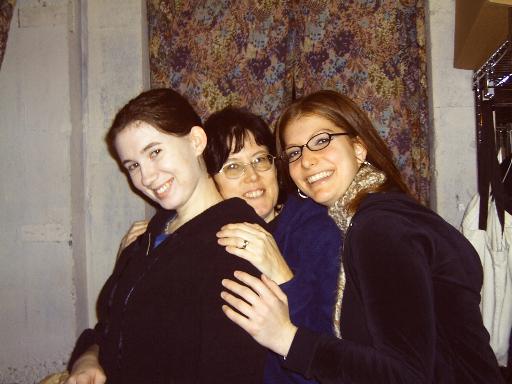 Cute, huh? Thanks, Jake!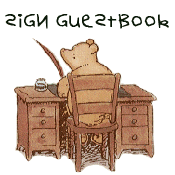 comments?

December 1, 2004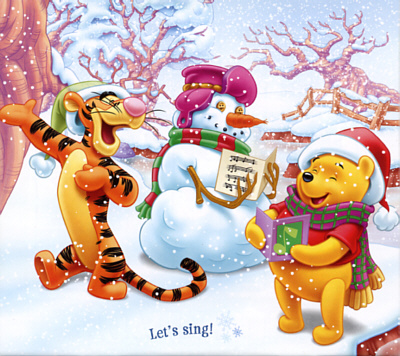 Thank goodness we're not seeing that kind of scene yet. Yeah, it's pretty but I'm not quite ready for that!
On a more serious note, today is World AIDS Day. The focus this year is on women and girls. Please wear a red ribbon today and show support for research to find a cure. If you would like to help financially, Broadway Cares / Equity Fights AIDS is a wonderful charity to support. Another charity I like to support is GMHC: Gay Men's Health Crisis.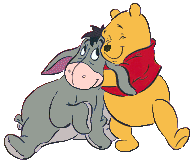 Hugs and thank you!
Now back to the month of December. My shopping is done and the cards and gifts to those out of state are mailed. It's a good feeling. Next week, I'll be done with the class and I'll have my evenings to myself during the week. Once we get the decorating done, the major work will be done. This is a good thing because the holiday will be here before we know it. I do love seeing the gifts arrive in the mail. I just love online shopping!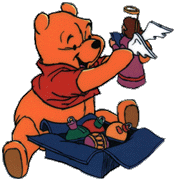 Pooh's ready to help with decorating the tree! The fire dept. will start selling trees this weekend.
Have a good day, everyone.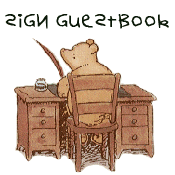 comments?