home honig family theatre spot journal links
April, 2008
April 15, 2008
New Toy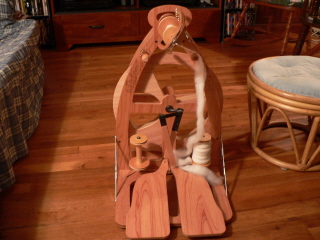 I've just finished teaching the ASL course at BOCES and gave myself a gift, a portable spinning wheel to bring to Sunday knitting group and spin guild meetings.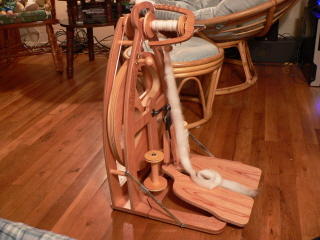 "New toy" rhymes with Joy, the name of this Ashford wheel. It's beautiful and so compact. It's lightweight, easy to carry (little handle on the top) and comes with a carrying case.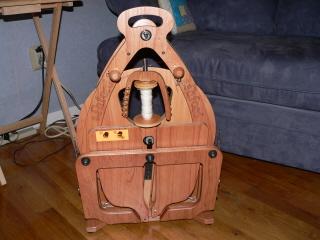 Here it is all folded up and ready to put into the case. So, with two wheels, will I spin twice as much fiber? I hope so, I've got quite a bit to spin. I think I'm set for awhile! I just got two raw fleeces (is that the proper plural??), one white and one gray/brown. The darker one is Romney, which I've never tried but I hear it's good for beginners. I don't know the breed of the white one. It was listed as a "mystery" fleece because the woman selling them forgot to label it. I figured since I'm still a beginner, it didn't matter much. Wool is wool, right? I've washed and prepared a bit of it and spun a little bit. It looks pretty good so far. I just wanted to see how it spun up to make sure I'm preparing it properly. So far, so good.
Spin guild tomorrow night and next week is spring break. By the end of the week, it's supposed to be in the high 70s? Nice but I hope it doesn't get too hot too soon.
ta-ta!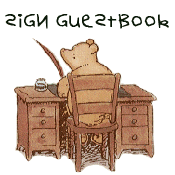 comments?

April 11, 2008
Dang, these months creep up on a person!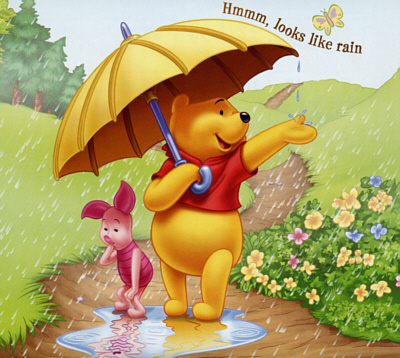 And yes, it does look like rain.
I don't know where the time goes but every month, it seems to take longer for me to get started here. It has been busy with working and teaching. The class winds up on Monday so there will be a little bit more free time. In the meantime, I've been doing a bit of knitting and spinning. I've been continuing to knit socks at work. I finished a pair for Bill a couple of days ago.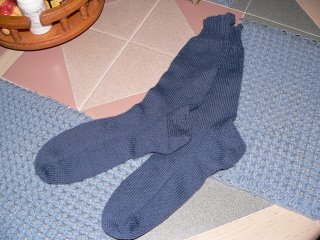 This is a vintage 1940's pattern for "Men's socks" issued by the Red Cross. Women knitted these socks for soldiers and sailors. The leg is 11 inches long.
They look great. I used Knit Picks Essential sock yarn, one of my favorites. It's wool/nylon blend, machine wash and dry, knits up beautifully and is so soft. You can't beat the price, either.
Last weekend, I decided to try my hand at dyeing some sock yarn.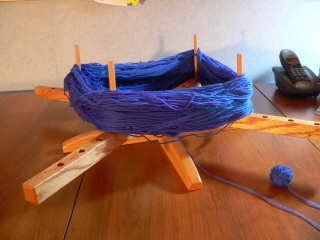 I dyed this yarn with royal blue Wilton cake decorating food color. Unfortunately, the yarn (Knit Picks "Bare") was only tied in two places. When I wrap my skeins, I always attach four ties. Needless to say, the yarn became pretty well tangled during the dyeing process. I put it around my skeiner and first wrapped it into a ball, very gingerly untangling it. Then, I wound two balls of yarn from the one ball of untangled yarn. Worked really well.
The color in the first picture is more accurate. The second is washed out a bit from the flash. I also dyed some Lion Brand fingering weight yarn. I bought this yarn on a cone, enough for four pairs of socks. I had to wind it off onto the niddy noddy to get a hank I could dye. I used Kool Aid grape for this yarn.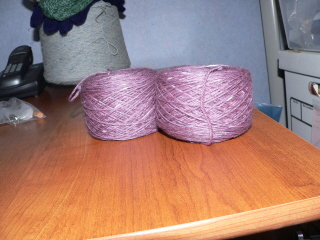 The color's not really accurate. It's a little darker than this. It's so pretty!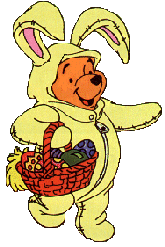 Easter came and went. We had the usual celebration here at our house. Lorelai checked out all the goodies in her basket.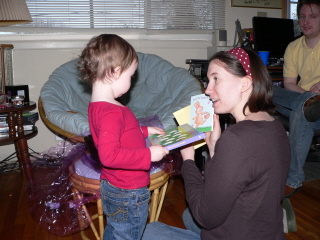 She hunted for Easter eggs.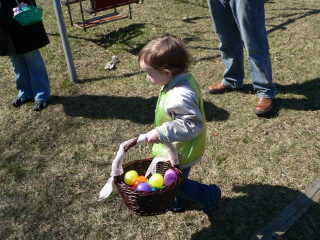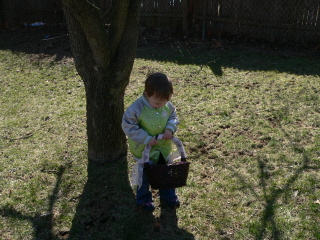 She played a little dress up with Nana's straw hat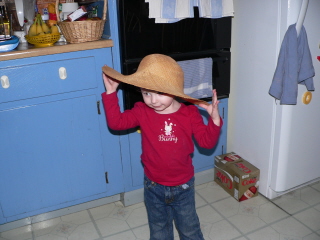 looking like she just stepped out of the rice paddy.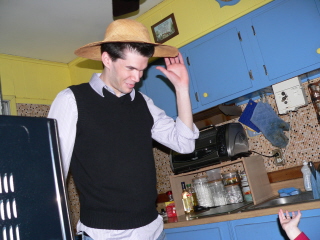 Uncle Billy looked even funnier.
Richard, Sharon and Shawn were in New Jersey the week after Easter for a family wedding and spent Sunday with us.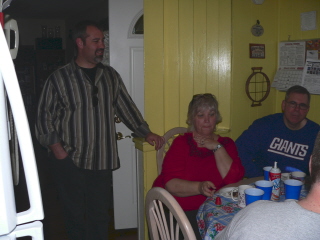 We hadn't seen Shawn in years and it's always great to get together with the cousins.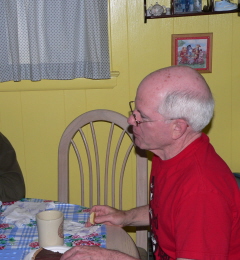 Janet and Liz will be back to visit us in a couple of weeks.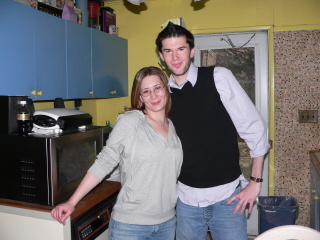 Bonus picture of Kim and Billy.
Speaking of which, Billy and Kim both got promotions at work recently. The raise in pay is always nice but Kim's more excited about the third week of vacation!
I guess that's the update. I promise not to wait so long next time!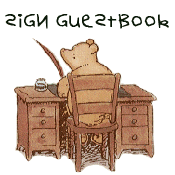 comments?