home honig family theatre spot journal links
A Gift for Nan Knighton

...for all she's done for The Scarlet Pimpernel
I think everyone is aware of Nan's dedication to The Scarlet Pimpernel. Without her persistence, we probably wouldn't be talking about a Scarlet Pimpernel 4.0 tour. I decided it was important to give Nan a gift that would tie together this experience we call Pimpernel. I put together a quilted wallhanging with photographs of all four casts and other pictures I found special.
Before this, to my knowledge, the only special gift Nan has received has been the yearbook put together by fans when the show closed at the Minskoff. We know how much Nan loved that gift. She was equally as delighted with this visual reminder of the hard work by the creative team, casts and crew.
The photographs were computer printed in reverse on iron-on transfer paper, then ironed onto white fabric, cut out and incorporated into a patchwork quilt design.
Here are the photographs of the quilt.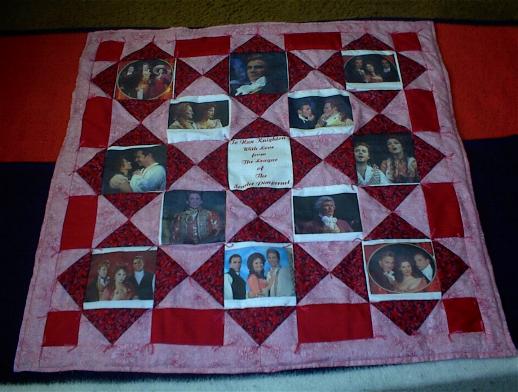 First row: Terrence Mann, Douglas Sills, Christine Andreas; Douglas Sills; Douglas Sills, Amy Bodnar, William Michals
Second row: Elizabeth Ward Land, Rachel York; Marc Kudisch, Ron Bohmer
Third row: Carolee Carmello, Ron Bohmer; Gilles Chaisson, Christine Andreas
Fourth row: Robert Patteri; Harvey Evans
Fifth row: Ron Bohmer, Carolee Carmello, Marc Kudisch; William Michals, Amy Bodnar, Robert Patteri; Douglas Sills, Rachel York, Rex Smith

The center square reads "To Nan Knighton, With Love from the League of The Scarlet Pimpernel"



email me