home honig family theatre spot journal links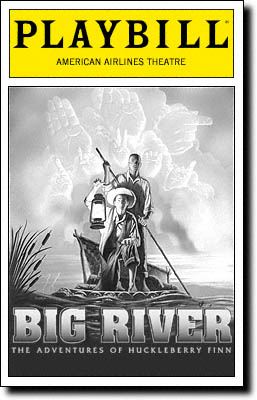 BIG RIVER
at Roundabout's American Airlines Theatre
Broadway production closed September 21, 2003.
"Light to Shine" Big River Fan Site
This is an amazing production of Mark Twain's story of Huck Finn, told in English and American Sign Language. It is a limited run, due to end September 14, 2003 but I would hope that a production like this would transfer and continue. It's that good. Although it does not appear that a transfer is imminent, there is a tour planned.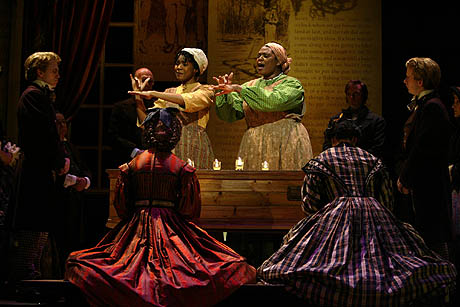 Deaf and hearing actors perform side-by-side, hearing actors voicing for deaf actors. The sign language is choreographed so beautifully, it adds to the very sweet story and music.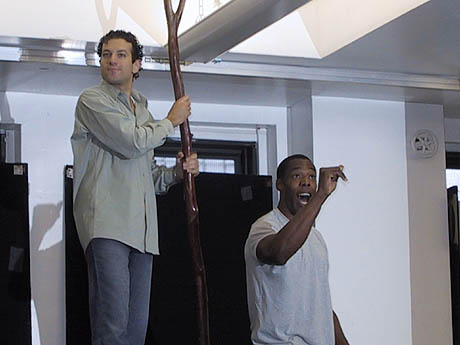 This picture is from rehearsal. Deaf actor Tyrone Giordano (left) plays Huck and his words are voiced by Daniel Jenkins, who plays the narrator, Mark Twain, and played Huck Finn in the original production of Big River in the mid-80's. Michael McElroy (right) plays the slave, Jim.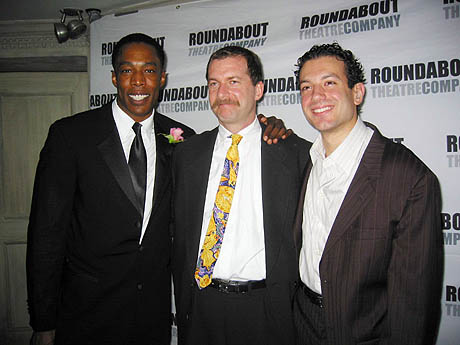 Michael McElroy, Daniel Jenkins and Tyrone Giordano
All pictures courtesy of playbill.com.
Articles
Cast List: Big River: American Sign Language Adaptation at the American Airlines Theatre
Big River: American Sign Language Adaptation Multimedia
Playbill News: Deaf West's Big River Shines on Broadway as Roundabout Revival Opens, July 24
Broadway.com interview with Michael McElroy
Playbill News: scroll down for story about Michael McElroy
Deaf Today: Sign to Sing: New Broadway Big River Is Confluence of Deaf, Hearing and Musical Theatre
Deaf Today: Deaf West Theatre Takes Big River On The Road; North American Tour Set for Summer 2004
Playbill News: Broadway's Huck, Twain and Jim Join Calhoun for Big River Tour, Launching June 11 in CA